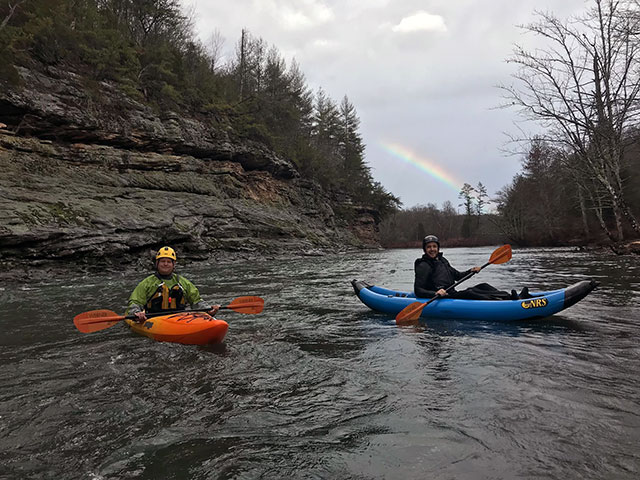 News Release Date:
March 8, 2018
Contact: Matt Hudson, (423) 346-6294
Contact: Veronica Greear
On Saturday, March 31, Obed Wild & Scenic River and Tennessee Citizens for Wilderness Planning are working together to host a river-based cleanup of the section of the Obed River between the Devil's Breakfast Table and Nemo. This 11-mile section of stream is one of the most dramatic in the park, featuring towering cliffs and a sense of remoteness rarely found in today's world. Experienced whitewater paddlers are welcome to join in the cleanup but must provide their own whitewater boat, personal floatation device, helmet and appropriate river attire. Paddlers should be highly proficient in Class III/IV whitewater.
Individuals wishing to assist with the cleanup should meet at the Obed Wild & Scenic River Visitor Center, located at 208 North Maiden Street in Wartburg, Tennessee, at 9:00 AM (ET) on March 31. Participants should be prepared to use their own vehicles to set the shuttle at the take-out point at Nemo and to drive to the put-in location at the Devil's Breakfast Table. 
The river trip is subject to cancellation due to weather and river levels. Although rapidly changing conditions could necessitate cancelling the river trip on the morning of the event, a tentative go-no-go decision will be made by 4:00 PM on the afternoon of Friday, March 30. If the river trip is cancelled, a land-based cleanup will take place near Nemo Day Use Area. Participants can obtain status updates via the park's Facebook page at Facebook.com/ObedNPS/.  
For more information, please call the park at (423) 346-6294.