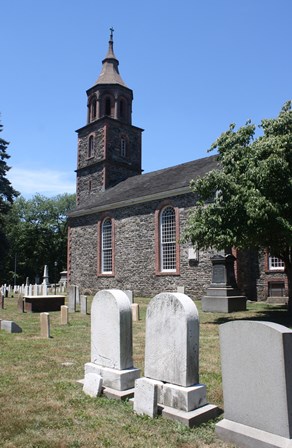 News Release Date:
September 25, 2015
Contact: David Osborn, Site Manager, St. Paul's Church National Historic Site, 914-667-4195
WHEN: Thursday, October 1, beginning at 10 A.M. at St. Paul's Church National Historic Site. The ceremony will last two hours.
WHERE: St. Paul's Church National Historic Site, 897 South Columbus Avenue, Mount Vernon, New York 10550.
WHAT: The ceremony will take place in the church, with speeches and presentations. Kathryn Jones will play St. Paul's famous organ. The classes will then proceed from the church to the cemetery, accompanied by the music of the African Drum Ensemble. A wreath will be placed on the gravesite of Rebecca Turner. Then, each student will place a single carnation at the gravesite. (The location of Benjamin Turner's gravesite is unknown.)
WHO: Fourth graders from Rebecca Turner Elementary School and seventh graders from Benjamin Turner Middle School. Dr. Kenneth R. Hamilton, superintendent of Mount Vernon City School District will speak as well. Dr. Larry Spruill, professor of history at Morehouse College in Atlanta, will discuss the historical significance of the Turners. Students Myall Johnson, Jahzeel Stewart, Michael Beharry and Shaniya Rabndranath will address the audience as well.
WHY: Rebecca and Benjamin Turner, former parishioners of St. Paul's Church in the early 1800s, owned a farm near St. Paul's. Benjamin was a free person, while Rebecca had been enslaved but later manumitted or freed. The Turners later founded a church with an African-American congregation. Rebecca Turner died in 1874 at age 93 and is buried at St. Paul's cemetery. In May 2015, inspired by the scholarship of Dr. Larry Spruill, Longfellow Elementary and Longfellow Middle Schools were renamed after the Turners.
About the National Parks of New York Harbor
Stretching from The Battery at the southern tip of Manhattan into three other boroughs, and beyond the Verrazano Narrows Bridge to New Jersey, the National Parks of New York Harbor includes 10 national parks with 22 natural, historic and recreational sites. These national parks preserve special places that tell the story of America and its leading city.