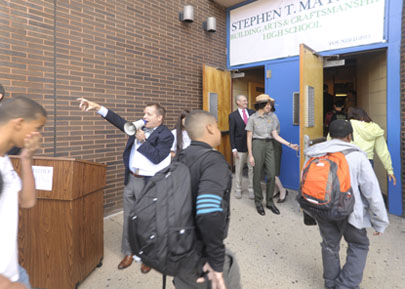 News Release Date:
September 9, 2013
Contact: Mindi Rambo, 212-668-2208
NEW YORK -- Today, the National Park Service and the New York City Department of Education celebrated the opening of a high school in lower Manhattan that offers a one-of-a-kind academic experience. The Stephen T. Mather Building Arts and Craftsmanship High School is a Career and Technical Education (CTE) high school that will offer a hands-on curriculum in the preservation-related trades of carpentry, masonry, plastering, decorative finishing and landscape management.
Mather rose out of the unprecedented cooperative agreement between the Department of the Interior and the City of New York, signed in July 2012. Recognizing the ever increasing need for professionals to care for historic structures and landscapes in New York City and across the country, the National Park Service and the NYC Department of Education saw an opportunity to encourage the exploration, study and practice of historic trades.  
"This innovative school marries the goal of the National Park Service to be a leader in cultural and environmental stewardship, preservation and education to the Department of Education's goal to prepare its high school students with the tools they need to succeed in both college and the work place," said Joshua Laird, commissioner of the National Parks of New York Harbor.
Named for the first NPS director, Stephen T. Mather, this new CTE high school will offer not only technical skills training, but also a challenging academic program based on critical skills needed for college and career readiness. The school has drawn its faculty from both innovative public school instructors and preservation trade professionals.
"At Mather we recognize that in order for students to be successful after high school, they need to be more than just college ready," said Principal Larry Gabbard. "Employers are looking for workers who have diverse skills. We offer more for the students. Critical-thinking and problem-solving are as much a part of our curriculum as learning to plane a board or re-point a historic brick wall. We want students to have options after high school that fit their timelines and their desires, armed with hand skills and mind skills."
Mather students will participate in field activities and internships that will give them the opportunity to apply what they learn to actual historic structures and landscapes managed by the National Park Service. Working with dedicated historic preservation professionals, students will not only have a hand in protecting America's national treasures, they will get an inside look at an array of careers and the possibilities they offer.
"This is a wonderful opportunity to bring along the next generation of preservation professionals," said Stephen Spaulding, Northeast Regional Chief of Historic Architecture, Conservation and Engineering for the National Park Service. "Graduates of this program will have learned the foundational skills, history and science of their trade and will be prepared to enter the workforce immediately, begin an apprenticeship program, or pursue advanced academic studies."
The entering class of 2017 is comprised of approximately 100 students from across all five boroughs. Though the trade skills that Mather will teach have been traditionally practiced by men, 30 percent of its incoming students are young women. Each successive year Mather will add a new class, so that when the class of 2017 graduates the student body will be approximately 450.
"The National Park Service is preparing to celebrate its centennial anniversary," Laird said. "Mather and its Class of 2017 are helping us get ready for our next 100 years by becoming the future stewards of the places and landscapes Americans treasure."