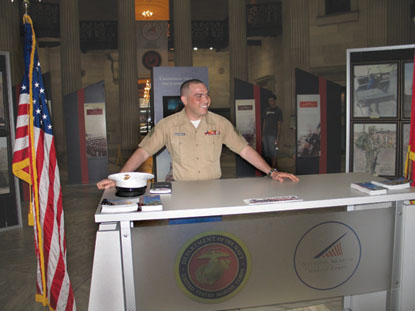 News Release Date:
May 27, 2010
Contact: Mindi Rambo, 212-668-2208
On Wednesday, May 26 a traveling exhibit of combat art from the National Museum of the Marine Corps opened at Federal Hall National Memorial for a special seven-day showing during New York City's Fleet Week celebration.
 The exhibit features artwork created by U.S. Marines about Marine Corps life during war interspersed with panels outlining the history of the service. The paintings reflect the range of the wartime experience from getting one's hair cut through combat action to the honoring of the fallen. Sgt. Kristopher Battles noted that combat art has been a regular part of the Corps since 1918 when Lt. John Thomason sketched out the battles before him during World War I, and it has been a continual presence since World War II with the official founding of the Combat Art Program.
As Sgt. Michael Bustamante of the National Museum of the Marine Corps talked about the exhibit and about life in the Corps with visitors, National Park Service Ranger Michael Callahan shared the history of the building at 26 Wall Street, including how during the Civil War Draft Riots in 1863 a detachment of U.S. Marines was sent to assist in the defense of what was then a U.S. Sub-Treasury. Dressed in a marine captain's uniform of the period, Ranger Callahan talked about the Marines strategy for making sure the site wasn't overrun by the rioters and its millions of dollars in stored gold and silver stolen.
The exhibit will be on display in the building's rotunda through June 3. Federal Hall is open Monday through Friday, 9 a.m. to 5 p.m. The site will be closed on Monday, May 31 in observance of Memorial Day. To learn more about the National Museum of the Marine Corps, visit www.usmcmuseum.org . To learn more about Federal Hall National Memorial, visit www.nps.gov/feha .