Date:
June 26, 2009
Contact:
Darren Boch
, 212-668-2251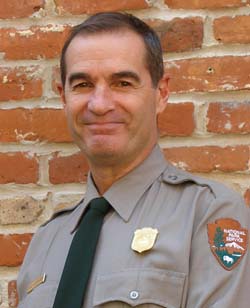 NEW YORK, New York —National Parks of New York Harbor Commissioner Maria Burks has named David Luchsinger as superintendent of the Statue of Liberty National Monument. Luchsinger will be responsible for both the Statue of Liberty and for Ellis Island, which drew more than 3.5 million visitors in 2008. He succeeds Cynthia Garrett, who retired.
"Dave's gone from the Big Apple to the Big Easy and now returns," said Burks, referring to Luchsinger's current position as superintendent of Jean Lafitte National Historical Park and Preserve in New Orleans. "With a great background in many phases of park operations and his knowledge of the national parks in New York City, Dave is the right person to lead the park. I look forward to working with him again."
"This is an exciting time for the park and for the American people as we prepare to reopen the crown of the Statue of Liberty," said Luchsinger, "and also use $25 million from the President's economic recovery plan to stabilize the Baggage and Dormitory Building at Ellis Island. I look forward to working with great partners to keep these beacons of Liberty shining."
Luchsinger, a 31 year National Park Service veteran, began his NPS career as a seasonal laborer, and has been a Maintenance Mechanic, Concessions Specialist, Administrative Officer, Business Management Specialist, and Deputy Superintendent at several national parks in the New York area, including an assignment as Acting Deputy Superintendent at the Statue of Liberty.
For the past three years he has served as Superintendent of Jean Lafitte National Historical Park & Preserve, with managerial responsibility and oversight for New Orleans Jazz National Historical Park as well. During his tenure, the park has been nearly completely rehabilitated from the effects of hurricanes Katrina, Rita, Gustav, and Ike. He has also served as National Park Service representative and Ex Officio Commissioner on the Atchafalaya National Heritage Corridor Commission.
About The National Parks of New York Harbor
The National Parks of New York Harbor helps coordinate 10 National Parks with 23 unique destinations in New York City and northern New Jersey. The National Parks of New York Harbor includes nearly 27,000 acres and welcomes more than 12 million visitors each year. The parks offer year-round public programs, curriculum-based education, recreational opportunities, natural habitats, historic buildings and museum collections. There are also many opportunities to become involved in volunteer and stewardship activities.