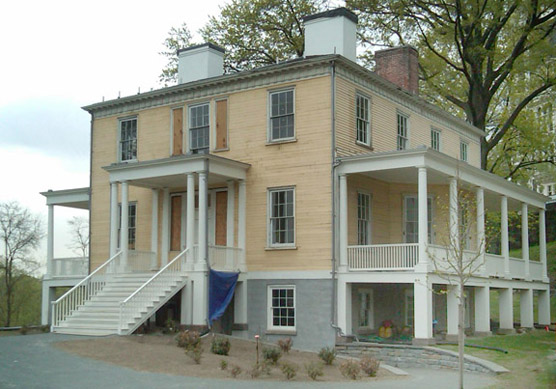 News Release Date:
May 4, 2010
Contact: Darren Boch, 212-668-2251
Contact: Mindi Rambo, 212-668-2208
Anyone walking near Hamilton Grange National Memorial lately has noticed that the exterior of the home has really begun to look just as Hamilton constructed his "sweet project" in 1802. The faux finish on the ground level has been done, turning stucco into "stonework," and the decorative railings have been installed and painted. And this being spring, the landscaping is beginning to bloom and the grass seed has taken root.
Phase One of the restoration project, which covered most of the exterior work and landscaping, is nearing completion. Among the Phase One work completed is the elevator to take handicapped visitors from the ground level to the first floor that has been installed and tested. The NPS restoration team recently inspected the HVAC, fire suppression, alarm, electric, water and sewer systems and we are now moving toward Phase Two, which will cover the interior restoration work, including the hanging of the sidelights and the staircase. If all goes according to plan, the interior "finishing" phase of the project should be completed in early 2011.