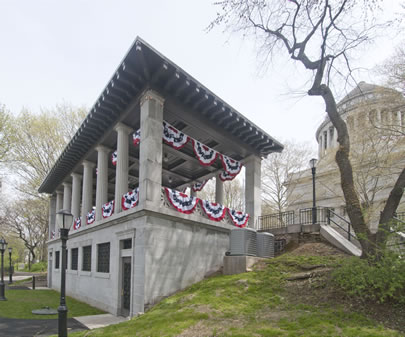 News Release Date:
April 27, 2011
Contact: Darren Boch, 212-668-2251
The National Park Service (NPS) and the New York City Department of Parks and Recreation welcomed visitors to the newly restored Overlook Pavilion, located just across the street from General Grant National Memorial in Harlem's Riverside Park the morning of April 27, 2011. The grand opening ceremony was part of the NPS's day-long commemoration of Ulysses S. Grant's 189th birthday.
"The newly restored center is now operating as a ranger contact station, complete with public meeting space, interpretive exhibits, a bookstore and, perhaps most important from a visitor service perspective, restrooms," said Shirley McKinney, park superintendent.
The classically-inspired pavilion sits on one of the highest points of elevation overlooking the Hudson River, and was opened in 1910 as a "comfort station" opposite Grant's Tomb. Due to a budget crisis in the 1970s, the city of New York was forced to close the pavilion, but its structure was left intact through the decades that followed even though it remained off-limits to the public.
In 2004, the city granted the NPS a permanent easement on the site so that the exterior of the pavilion could be restored to its 1910 appearance and the interior could be reconfigured so that it would both serve visitors and accommodate park staff. The Department of Parks continued to support the project by working with the NPS on the design and installation of an ADA-compliant access ramp, historic structure compliance, a sewage system, and traffic issues.
"We now have a fitting and beautiful place to welcome and serve our visitors to this sacred site in Harlem," said Maria Burks, commissioner of the National Parks of New York Harbor. "The completion of this project is yet another example of the fruits of our growing partnership with the City of New York."
The Overlook Pavilion is one of the most significant architectural additions made to Riverside Park following the park's initial design by Frederick Law Olmsted in 1873. The building represents the evolution of park design which occurred in the 1890s when the naturalistic parks of the mid-nineteenth century were supplanted by a taste for more formal designs associated with the "City Beautiful Movement."
Visit www.nps.gov/gegr to learn more or follow the site @Twitter.com/GrantsTombNPS