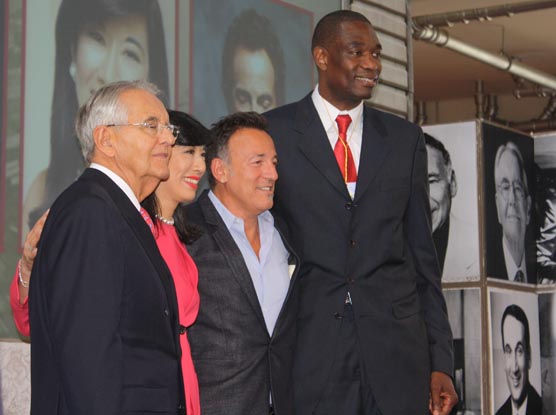 News Release Date:
April 26, 2010
Contact: Mindi Rambo, 212-668-2208
Tapping toes and raucous clapping were the order of the day at the 2010 Ellis Island Family Heritage Awards, which honored rock 'n' roll legend Bruce Springsteen, former NBA star Dikembe Mutombo, business icon Peter G. Peterson and Avon CEO Andrea Jung.  The awards are bestowed by The Statue of Liberty-Ellis Island Foundation and honor "immigrants or their descendents who have made a major contribution to the American experience."
In Ellis Islands' Great Hall on April 22, master of ceremonies NBC Nightly News anchor Brian Williams oversaw a program that began with a performance of Neil Diamond's "They Come to America." The musical tribute to the cultural mosaic that is America was followed by remarks from Stephen Briganti, president and CEO of the Statue of Liberty-Ellis Island Foundation, the foundation's first chairman, Lee Iacocca, and Tom Strickland, assistant secretary for Fish, Wildlife and Parks.
"We commemorate those individuals past and present who came here with a dream, a lot of hope, and an incredible amount of faith," said Superintendent David Luchsinger in his welcoming remarks.   "In creating this remarkable country, they prove to us daily that there is more that binds us together than pulls us apart.  It's a great lesson to remember."
Told through excerpts from travel documents, photographs, video and music, the deeply moving stories of the honorees and their families were powerful reminders of the hopes and dreams that have brought and continue to bring immigrants to "the land of opportunity."
Many in the audience were moved to tears as the video tribute to Dikembe Mutombo highlighted his  work in building a hospital in his native Congo. Business leader and author Pete Peterson shared some of the wisdom he gained from decades on the twin stages of business and foreign relations. Andrea Jung talked about her rise to the top of Avon's corporate ladder as the first female CEO of the "company for women."  Finally, Bruce "The Boss" Springsteen closed the ceremony by inviting his mother and two aunts onto the stage with him, so that he could honor the contributions they made to his success.
This year's Ellis Island Family Heritage Awards recipients are proof that while not every American was "Born in the USA," immigrants and their descendants have made indelible contributions to America and its shared culture.