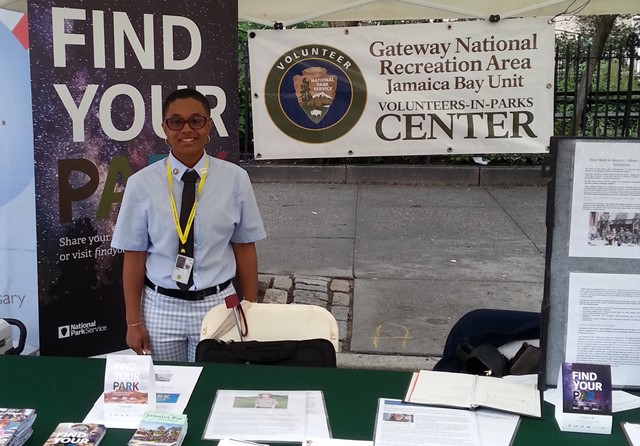 News Release Date:
September 25, 2015
Contact: Abigail Pope-Brooks, Centennial Volunteer Ambassador, 212-668-2208; mobile 917-829-0425
NEW YORK -- Kahmia Moise wasted no time when she arrived in June at Gateway National Recreation Area as its first ever Centennial Volunteer Ambassador. Already brimming with ideas for reaching new audiences, she convinced National Park Service (NPS) staff to set up a booth at PrideFest, part of the annual Gay Pride celebration in Manhattan's West Village. "I love interacting with different groups of people on a daily basis," said Moise. "I want everyone to feel comfortable and accepted in our parks."
Moise is one of more than 70 Centennial Volunteer Ambassadors, all young adults who have committed to a year of service at NPS sites throughout the country. They help park staff prepare sites for the NPS Centennial in 2016 by connecting local communities to parks through volunteer group service opportunities. Centennial Volunteers Ambassadors like Moise recruit, coordinate, and manage volunteer groups throughout the year, with a special emphasis on national days of service such as Martin Luther King, Jr. Day, Earth Day, National Public Lands Day, and Veterans Day. The initiative especially focuses on welcoming young visitors and those from diverse communities.
Moise's next major project is preparing Gateway for National Public Lands Day, which takes place Saturday, September 26. For the past month, she has been promoting the event via social media and supervising a volunteer in the creation of fliers and other promotional materials. On Saturday, Moise will be there "registering folks to participate, managing the materials, supervising the volunteers, and pitching in to help as well."
"In Brooklyn we are conducting an invasive plant removal project to support the NYC Million Tree initiative in the North 40 Area of Floyd Bennett Field," Moise said. "Volunteers will cut away and remove invasive species such as mugwort to help promote healthy growth among the native trees planted last year. In Staten Island we are holding a landscaping project at Great Kills to beautify the entrance for visitors and others who pass along. Volunteers will remove invasive plants, pick up trash, and assist with gardening."
The Volunteer Ambassador Program is a partnership between the National Park Service and the Student Conservation Association (SCA) and supports the Department of the Interior's Play, Learn, Serve, Work Youth Initiative to expand educational, volunteer, and career opportunities for millions of youth and veterans on the nation's public lands.
To learn more about the efforts of the Centennial Volunteer Ambassadors, visit http://www.nps100sca.wordpress.com.

About the National Parks of New York Harbor
Stretching from The Battery at the southern tip of Manhattan into three other boroughs, and beyond the Verrazano Narrows Bridge to central New Jersey, the National Parks of New York Harbor includes 10 national parks with 22 natural, historic and recreational sites. These national parks preserve special places that tell the story of America and its leading city, from the nation's early defenses to its first step as a new democracy, from the waves of immigrants to the rise of a commercial powerhouse unrivaled in the world. They include powerful international icons and places of extraordinary beauty where you can experience our history and natural heritage on the land and on the water.
--NPS--