Date:
March 11, 2014
Contact:
Mindi Rambo
, 212-668-2208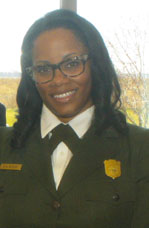 NEW YORK — Cherie Butler, a 21-year National Park Service veteran, has been selected as the next Deputy Superintendent for Park Operations at the Statue of Liberty National Monument and Ellis Island, according to Superintendent John Piltzecker.  Butler replaces Frank Mills who retired in 2012. She will begin her new assignment in early May.
"Cherie is the right fit at the right time for the park," said Piltzecker. "She has an excellent reputation as a leader who works collaboratively in all areas of management to improve park operations. From her front line experience working with park visitors, expertise in interpretation and education, and superb capabilities as a facilitator of partnerships, the park will benefit from her skillset in the years ahead."
The Statue of Liberty National Monument and Ellis Island are sites that symbolize and commemorate the living reality of freedom, democracy and opportunity in the United States. Woven into the history of these sites are the aspirations and contributions of millions of immigrants who made the United States their new home and the world leader it is today. A new National Park Service (NPS) report shows that in 2012 12,073,658 visitors to national parks around New York Harbor spent $394,399,300 million in communities near the park. 
 "The Statue of Liberty and Ellis Island are iconic and special places that continue to inspire Americans and visitors from around the world," said Butler.  "I am thrilled to have the opportunity to return to the place where I began my National Park Service career and to work with park staff, nonprofit and concession partners, volunteers and the local communities around the Tri-State area to protect the park's resources and to expand the visitor experience."
Prior to this appointment, Butler was the first superintendent at Harriet Tubman Underground Railroad National Monument, one of America's newest national parks and she also supervised the National Underground Railroad Network to Freedom program. The new national monument is located on Maryland's Eastern Shore and includes large sections of landscapes that are significant to Tubman's early life in Dorchester County and evocative of her life as an enslaved person and conductor of the Underground Railroad. Under her leadership, the National Park Service worked in collaboration with local, state, and federal entities to promote programs and partnerships to commemorate, preserve sites and other resources associated with, and to educate the public about the historical significance of the new park and the Underground Railroad. Prior to her tenure at the new national monument, Butler was the Northeast Regional Office Management Assistant, a two year appointment specifically designed to develop future superintendents. In that role, she was the key point of contact for technical and program management actions by the Northeast Regional Director and Deputy Regional Directors. She also supported regional communications and legislative affairs.
During her time as Management Assistant, Butler served as the acting Deputy Superintendent at Boston National Historical Park and Boston African American National Historic Site.  Butler came to the regional office from the position of Chief of Interpretation and Education at the seven Manhattan National Park Service sites in New York City. Prior to this, she served as the Chief of Interpretation, Education and Cultural Resources at African Burial Ground National Monument from 2009 to 2011 – another new national monument. She has also held a number of supervisory and interpretive positions at Independence National Historical Park and the Statue of Liberty National Monument and Ellis Island.
Butler, a native of Pine Bluff, Ark., holds a bachelor of communications degree from the University of Arkansas at Pine Bluff with post graduate studies at Temple University in Philadelphia, Pa.