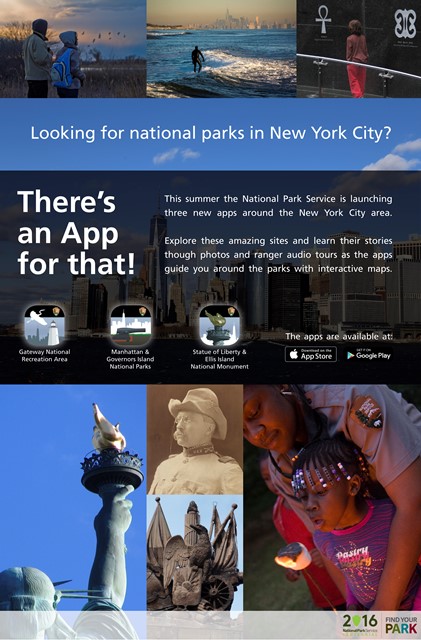 News Release Date:
June 30, 2016
Contact: NPNH: John Harlan Warren, 917-829-0425
Contact: Statue of Liberty NM: Jerry Willis, 646 356-2105
Contact: Gateway NRA: Daphne Yun, 718-345-4602
National Park Service to release three apps in time for summer vacations

NEW YORK—Visitors to New York City and Sandy Hook, New Jersey can now download and use three free apps to visit national parks, with 23 different locations, throughout New York Harbor. Locations include the Statue of Liberty, Ellis Island, Floyd Bennett Field in Brooklyn, African Burial Ground, Federal Hall and Governors Island. Each app is now available for free on the iTunes App Store for Apple devices. Similar apps for Android devices will be available soon on Google Play. (NOTE: As of July 6, 2016, all are available. Links are below.)
"Having an app is like having a park ranger in your pocket, ready to answer your questions and give you more information," said Commissioner Joshua Laird. "In the Centennial year of the National Park Service, National Parks of New York Harbor wants a new generation to discover all the national parks here in New York Harbor. Whether you want to enjoy peaceful natural areas, explore our nation's history or find a great beach, these apps can help you to find your park."
There is so much to see in New York Harbor's national parks that one app was not enough. Therefore Statue of Liberty National Monument, which includes the Ellis Island National Museum of Immigration, has an app all to itself. So does Gateway National Recreation Area, which includes locations in three New York City boroughs and two states. Information about the remaining national parks in New York Harbor—titled "Manhattan and Governors Island National Parks"—is available in a third app. (NOTE: Our newest national park, Stonewall National Monument, will be added to the app later this year.)
The three apps augment and enhance the visitor experience when you visit National Park Service sites in New York Harbor. They do not and cannot replace a real  visit, but are designed to provide photos and information during your visit.
Each app includes a great deal of information within an easy-to-use layout. Brief text and lively photographs direct you to points of interest within the ten parks. Each app includes maps, wayfinding, tour times and special programs. All apps contain ranger-created walking tours. Visitors can also share a digital postcard with the tap of a button. 
The app also helps visitors make thematic connections between the parks. For example, when visiting Hamilton Grange National Memorial, you can see what other places in the area share a connection with Alexander Hamilton, our first Treasury Secretary. The app connects visitors to Hamilton's connection with Federal Hall National Memorial in lower Manhattan. Visitors can also find the site of his famous duel with Vice-President Aaron Burr in Weehawken, New Jersey.  
These three apps are part of the next generation of National Park Service apps. This new platform allows for a dynamic connection between the visitors and the parks by being a database driven app. With each viewing or tap of a button, the system will check for new photos or text, a feature not seen in earlier NPS apps. This allows rangers to keep content current and engaging to the public without visitors having to download the app itself over and over for updates.
Make your Smartphone smarter: Download content in advance
Since national parks sometimes are in low cell coverage areas, one "smart" idea is to download all the content to one's smartphone before you visit a national park. That is different from downloading the app and is not required, but it will save visitors' data use while visiting the park. Downloading works best when connected to Wi-Fi.
To download content:
Open the app to the main page.

In the lower right hand corner, click the tab that says "More."

Click the Settings icon (the green gear with the arrow in the center).

Click on the Download content button (the gray gear with the arrow in the center). Stay on this screen with the phone active until complete. Do not leave the screen or turn the phone off while downloading or it will not finish.
Links to Statue of Liberty and Ellis Island app:  iTunes App Store  Google Play for Android Devices
Links to Gateway National Recreation Area app:  iTunes App Store  Google Play for Android Devices
Links to Manhattan and Governors Island app:  iTunes App Store  Google Play for Android Devices

About National Parks of New York Harbor
Stretching from the Battery at the southern tip of Manhattan into three other boroughs, and beyond the Verrazano Narrows Bridge to New Jersey, the National Parks of New York Harbor includes 11 national parks with 23 natural, historic and recreational sites. These national parks preserve special places that tell the story of America and its leading city. 
—NPS—