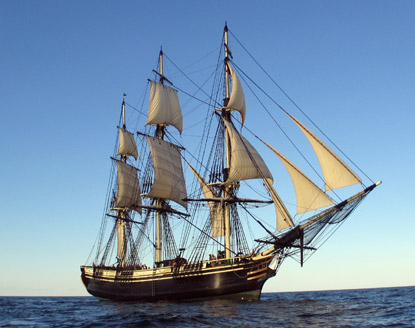 News Release Date:
August 10, 2011
Contact: Mindi Rambo, 212-668-2208
New York, NY - A living piece of the United States' maritime history will be open for visitation at Slip 1 of North Cove Marina in Manhattan on Saturday, Aug. 13. The public is invited to step aboard the National Park Service's (NPS) only fully operable tall ship, the Friendship of Salem, from 10 a.m. to 3 p.m. 
The Friendship is an authentically detailed modern replica of the 1797 East Indiaman of the same name. The original Friendship made 15 voyages globally to nations including India, China and England before her capture by the British during the War of 1812. The modern Friendship is home ported at Salem Maritime National Historic Site in Salem, Mass., where it sailed from on Aug. 7 for New York City as part of a special program to introduce NPS youth interns from NPS parks from across Massachusetts, New York City and Maryland to America's maritime heritage, develop leadership skills and serve as hosts for a day of open tours Aug. 13. 
What: Public Visitation of the Friendship of Salem
When: 10AM-3PM on Aug. 13, 2011
Where: North Cove Marina, Battery Park City, Manhattan 
Cost: Free 
About the Friendship of Salem
The Friendship is a partnership project between the National Park Service and the Essex National Heritage Area. The Friendship of Salem is a full-size replica of the original ship constructed by the renowned shipbuilder Enos Briggs in Salem in 1797. She is a 171-foot three-masted "East Indiaman" - the type of merchant ship that made Salem a leader in the opening of international trade with the Far East, Europe and Russia in the years immediately following the American Revolution. The Friendship is the largest wooden, Coast Guard certified sailing vessel to be built in New England in more than a century. She is part of the National Park Service's Salem Maritime National Historic Site and is a fully operational sailing vessel. Learn more about the Friendship at https://www.nps.gov/sama/historyculture/friendshiphistory.htm and http://www.friendshipofsalem.org/. 
About The National Parks of New York Harbor
The National Parks of New York Harbor helps coordinate 10 National Parks with 22 unique destinations in New York City and northern New Jersey. The National Parks of New York Harbor includes nearly 27,000 acres and welcomes more than 12 million visitors each year. The parks offer year-round public programs, curriculum-based education, recreational opportunities, natural habitats, historic buildings and museum collections. There are also many opportunities to become involved in volunteer and stewardship activities.