Date:
November 17, 2006
Contact:
Tom Belcher, 360 856-5700 ext 371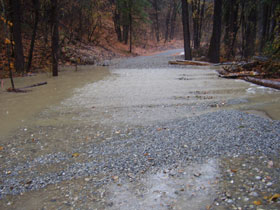 Extensive damage has occurred to the Stehekin Valley Road, Company Creek Road and Cascade Pass Road.  240 linear feet of paved roadway has been lost and more than 5,200 linear feet of gravel surface sustained major scouring.
Over 1,000 feet of river bank has seriously eroded, destroying the road edges above; three culverts have been lost.  Numerous campground sites and roads at Harlequin and Colonial Campground were badly damaged or completely washed away. At least 5 acres of the surface of Lake Chelan is covered by floating woody debris creating navigation hazards near Stehekin.  Approximately 11,000 linear feet of trail tread damage has been reported in eleven drainages, and 180 linear feet of wooden trail bridges has been damaged beyond repair. Two foot logs were swept away on Thunder Knob Trail.  Non ERFO-eligible road damage includes replacing two existing culverts on the Stehekin Valley Road at Thimbleberry Creek and a damaged culvert crossing at Boston Creek on Cascade Pass Road. 
Stream channel changes at the North Fork of the Cascade River have created the need for a new single-lane 60-foot bridge. An initial aerial flight over the park to assess the damage in remote areas of the park has been completed with no additional major trail bridge damage reported. Photos of the flood and damage are available at https://www.nps.gov/noca/parknews/index.htm