Date:
August 21, 2009
Contact:
Kerry Olson, 360 854-7302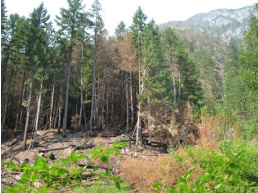 Overview: Twelve fires ranging in size from a single tree to 400 acres have been burning in the North Cascades National Park Complex since late June. All twelve fires were started by lightning. The total acreage for all fires combined is 696 acres. Five of these fires are being managed with suppression tactics to protect the public, and infrastructure in the area. The other seven fires are being managed for resource benefits. Park staff members are educating visitors about the benefits of fire in natural ecosystems.
Current Situation: Yesterday, patrols were made from roadside vantage points to observe fire activity. No changes were noted in fire activity from the previous day. Three fires continue to produce light smoke: the Elija and Panther Fires in Panther Creek, and the Brush Creek Fire in Brush Creek drainage. Again, no smoke was observed at the other fires: Cascade Creek Fire and fires in the Crapper Complex. Today, a helicopter reconnaissance mission is planned for the Stehekin area to scout new fire starts due to lighting activity last night. Ground patrols will be made to watch for changes in fire activity at existing fires in the Panther and Crapper Complexes. Helicopters are available to assist firefighters by making water drops if requested.
Conditions and Fuels: Fires are burning in fire adapted ecosystems. Fires are in subalpine and mixed conifer forests.
Weather and Fire Behavior: Skies are predicted to be cloudy with a chance of sprinkles on the west side of the Cascade Mountains and sunny on the east side. Temperatures will vary between 72 and 85. Winds will be 6-11 mph.
Resources Assigned to the Fire: Personnel: Park staff supported by single resources Aircraft: 2 helicopters, one Type 3 (light) and one Type 2 (medium)
TRAIL CLOSURES: The Panther Creek Trail is closed from the trailhead on Highway 20 to Fourth of July Pass until further notice.