Date:
August 19, 2009
Contact:
Kerry Olson, 360 854-7302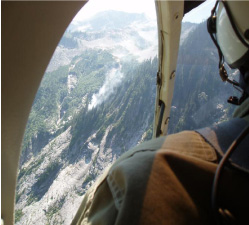 Overview: Twelve fires ranging from a single tree to 350 acres have been burning in the North Cascades National Park Complex since early August. All twelve fires were started by lightning. Five of these fires are being managed with suppression tactics to protect the public, and infrastructure in the area. The other seven fires are being managed for resource benefits.
Current Situation: Wet weather last week significantly decreased the level of fire activity, while this week, hotter and drier weather is expected to increase fire activity. The North Cascades fire management team and crews will be assessing the current level of fire activity at each fire by aerial and ground observations for the next few days to determine which fires remain active.
Conditions and Fuels: Fires are burning in fire adapted ecosystems. Fires are in alpine and subalpine mixed conifer forests that are located in steep, inaccessible terrain.
Weather and Fire Behavior: Skies will be mostly sunny today with temperatures reaching 85-93 degrees. Winds will be light, 4-8 mph. Tomorrow, temperatures are expected to climb to near 100 degrees in the Stehekin area. Fire behavior and smoke intensity may increase as a result of this hotter, drier weather.
Resources Assigned to the Fire: Personnel: Park staff supported by single resources
Aircraft: 2 helicopters, one Type 3 (light) and one Type 2 (medium)

TRAIL CLOSURES: The Panther Creek Trail is closed from the trailhead on Highway 20 to Fourth of July Pass until further notice.
HIGHWAY 20: Highway 20 is open. Park visitor facilities have not been affected.
To learn more about wildland fire in the National Park System go to:
www.nps.gov/fire/fire/fir_wildland.cfm
For updates on wildland fires throughout the Nation, visit: www.inciweb.org or www.nifc.gov/fire_info.html