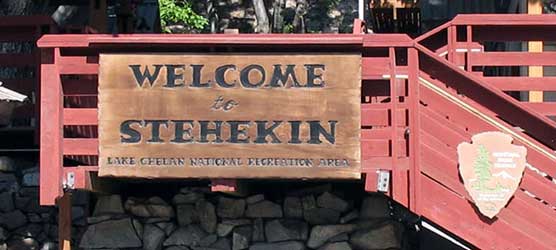 News Release Date:
September 29, 2011
Contact: Chip Jenkins, 360-854-7204
The National Park Service is pleased to announce that a new ten-year contract has been awarded to Guest Services, Inc. (GSI) for operation of the park-owned concession facilities in Stehekin, located within Lake Chelan National Recreation Area. GSI brings a wealth of experience in operation of visitor services; they currently provide lodging and food service for a variety of establishments throughout the country, including operation of concession facilities at Mount Rainier National Park and National Mall and Memorial Parks in Washington, D.C.
Since 2006, the National Park Service has made significant improvements to the concession facilities and believes that they provide a solid base for GSI to provide the hospitality services needed for guests traveling to Stehekin. "We are excited to have GSI as the new concessioner for our Stehekin concession operation and look forward to building a strong partnership with this company," said North Cascades National Park Complex Superintendent Chip Jenkins. "We have been pleased with the quality of services visitors receive under the current concessioner and believe GSI will carry this effort forward into the new contract."
Currently operating as Stehekin Landing Resort, the concession provides lodging, food service, transportation services, and the sale of fuel, gifts, and convenience items to Lake Chelan National Recreation Area visitors. Stehekin Adventure, LLC has operated the facilities since 2007 and the current contract expires on October 31, 2011.
All National Park Service facilities in Stehekin are open. The Stehekin Landing Resort will provide full lodging and food service through September 30, and continue to maintain reduced services through October 30. Visit www.stehekinlanding.com for more details and reservations. The Lake Chelan Boat Company also continues to operate daily passenger ferry service to Stehekin through October 15, and will operate this service through the winter on a reduced schedule. Visit www.ladyofthelake.com for more details and reservations. Additionally, Chelan Seaplanes offers daily flights to Stehekin through October 16. Visit www.chelanseaplanes.com for more information.
Concessioners fill a vital role in helping the National Park Service carry out its mission by operating publicly owned facilities and offering high-quality commercial visitor services at reasonable prices. The National Park Service is required to award concession contracts through a competitive bid process. A prospectus, which is a solicitation for proposals, for the commercial services in Stehekin was issued twice within the past year. In September, 2010, the response received was insufficient to award a contract. In March, 2011, the prospectus was reissued after modifications were made to create a more attractive business opportunity, and GSI was selected.
The new concession contract with GSI will be effective March 1, 2012 and full operations will be available by mid-June. For reservations and information about the 2012 season, email stehekin-reservations@guestservices.com.
Accessible only by foot, ferry, or plane, Stehekin is a destination for relaxation, adventure, and family fun - providing an array of recreation opportunities, including spectacular day hikes, bicycling, kayaking, fishing, backpacking, horseback riding, and ranger-led activities. In addition to the majestic scenery, attractions include the 312-foot Rainbow Falls, the Historic Buckner Homestead (orchard), and the dynamic Stehekin River. Visit www.stehekin.com for trip planning resources.