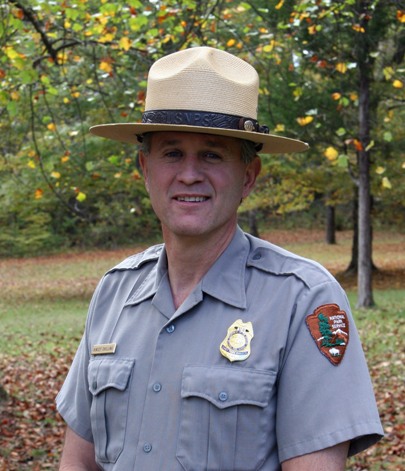 News Release Date:
October 20, 2006
Kinsey Shilling Named new Chief of Resource and Visitor Protection for North Cascades National Park Service Complex
Ozark National Scenic Riverways Chief Ranger Kinsey Shilling has been named the new Chief of Resource and Visitor Protection for North Cascades National Park Service Complex, which consists of North Cascades National Park, Ross Lake National Recreation Area, and Lake Chelan National Recreation Area.
Shilling grew up in Maryland and graduated from Goddard College in Vermont with a degree in outdoor education. His first National Park Service job came in 1976 when he was a lifeguard at Delaware Water Gap National Recreation Area, but his career as a permanent park employee began in 1986. After serving as a Peace Corps volunteer and Outward Bound Instructor in Lesotho, Africa, he was hired as a seasonal climbing ranger at Rocky Mountain National Park followed by a permanent position at Colonial National Historical Park. Since then, he has worked various jobs in visitor protection, dispatch, fee collection and interpretation at New River Gorge National River, Curecanti National Recreation Area and Black Canyon of the Gunnison National Park, Sequoia and Kings Canyon National Parks and Ozark National Scenic Riverways.
North Cascades National Park Service Superintendent Bill Paleck describes the new addition as an experienced field ranger who has completed a series of successively more demanding supervisory and managerial assignments, equipping him with the background and ability to immediately contribute to this park's management team.
Shilling describes North Cascades National Park as one of the premier Parks in the National Park system and one which I am excited to be a part of. I am looking forward to meeting the park staff and community members, contributing to visitor experience and safety, and enjoying the abundant recreational opportunities available in the Pacific Northwest.
Shilling will begin his new position at the end of November and be responsible for resource and visitor protection in the 684,000 acre complex, over 93% of which is federally designated wilderness.