Mountaineering Fatality in North Cascades National Park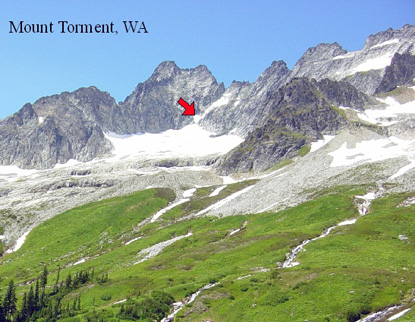 News Release Date:
August 10, 2009
Contact: Kelly Bush, 360 854-7241
A climber was killed early Sunday, August 9, 2009 in a mountaineering accident involving an icefall. Craig Luebben, 49, of Golden, Colorado, and Guillermo Benegas of Sandy, Utah, were beginning the Torment-Forbidden Traverse, which is an alpine rock ridge traverse connecting the two peak summits. The climb begins with an ascent of Mount Torment.
Having ascended most of the Taboo Glacier on approach to Mount Torment's southeast face, the two climbers were negotiating a huge gap between two sections of ice called a bergshrund. When Luebben moved onto the upper section of glacier, a 100' tall, 20' wide and 10' deep piece of ice broke off taking the climber with it. A single cam device held his fall, but he still fell approximately 40 feet and was critically injured by falling ice. Pieces of ice also hit climbing partner Benegas, but he was able to position Luebben on a ledge and scramble to a location where he could call 911 with a cell phone. National Park Service rangers were transported to the scene by via helicopter and preceded with a recovery and rescue of the two climbers.
Luebben was a well known and accomplished climber, Everest guide and author having first ascents in Yosemite, Rocky Mountain, Zion and Black Canyon of the Gunnison National Parks.
Last updated: August 11, 2017