Major Marijuana Plantation Removed from Ross Lake National Recreation Area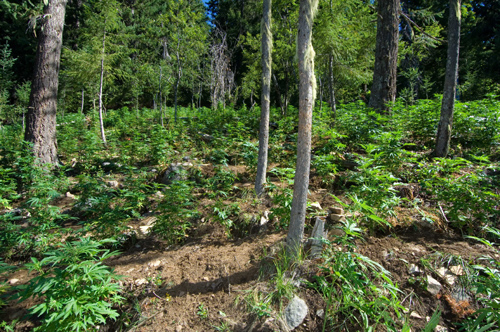 News Release Date:
August 18, 2008
Contact: Kinsey Shilling, 360 854-7240
On August 14th, law enforcement officers from nine agencies raided a marijuana plantation in Ross Lake NRA., destroying 16,742 plants with a value of nearly $48 million. The site was the first known marijuana plantation within an NPS area in Washington and the first one found in western Washington. 
 
Over 1,000 pounds of garbage, fertilizers, pesticides and herbicides, irrigation piping, propane canisters and equipment were also removed from the site. Damage to the park by the growers included cutting of trees to clear the grow sites, terracing of the land, impounding of creeks and installation of irrigation systems, spreading of chemical fertilizers, harassing and trapping wildlife, construction of living quarters and fences, and the spreading of garbage and human waste.
The site was located by the pilot of a helicopter working on a maintenance project for the park. The appearance, location, and techniques used at the site are consistent with Mexican drug trafficking organizations (DTO) that have been cultivating marijuana at several National Park Service sites in California in recent years. Mexican DTOs have traditionally smuggled marijuana into the United States, but as strengthened border controls have made smuggling more difficult, cartels are moving production inside the United States. The remote character of public lands, such as national parks, can prove attractive to such operations.
"These operations are run by people without regard to the public trust," said Kinsey Shilling, Chief Ranger, North Cascades National Park Service Complex. "Damage to the park in direct contrast to the National Park Service mission to protect this park for the enjoyment of this and future generations."

"The success of this operation with no significant injuries despite armed criminals, difficult terrain, helicopters, and hazardous chemicals is a credit to the leadership and cooperation of law enforcement agencies in the state of Washington," said Chip Jenkins, Superintendent, North Cascades National Park Service Complex.

Over 50 officers were involved in the operation. Key roles were played by personnel from the National Park Service's Investigative Services Branch, the Whatcom County Sherriff's regional drug task force, the Washington State Patrol, the Clark County Sherriff's Office, Mount Rainier National Park, Pacific West Region's special events and tactics team (SETT), the United States Park Police, the Washington National Guard, the U.S. Border Patrol, U.S. Drug Enforcement Agency, U.S. Immigration and Customs Enforcement, and Washington Fish and Wildlife. The NPS SETT is comprised of park rangers from Olympic National Park, Hawaii Volcanoes National Park, Lake Mead National Recreation Area, Yosemite National Park, and Golden Gate National Recreation Area. The operation was supported by the staff of North Cascades National Park.
Last updated: February 28, 2015