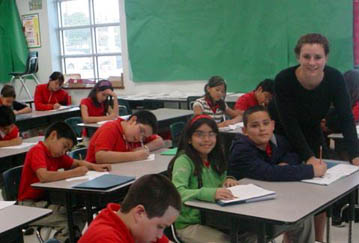 News Release Date:
May 5, 2008
Contact: Charles Beall, 360 854-7302
Science teacher and "Teach for America" alumnus, Gwendolyn Peterson, has declared May 12-16, 2008 as National Park Week in Houston's Seguin Elementary School. Ms. Peterson spent last summer in Washington's North Cascades National Park through the "Teacher to Ranger to Teacher" program – welcoming people to the Visitor Center, leading hikes, and developing educational curriculum.
"Last summer was a fantastic opportunity to experience turquoise water, jagged glacial peaks, and wild animals – an environment in stark contrast to Houston – and bring some of this experience back to my students," said Ms. Peterson. "The experience was a once in a lifetime opportunity that made me think outside myself and realize the sheer grander of this country."
"Having Ms. Peterson introduce the importance of national parks will enrich the educational experience of our students," said Seguin Elementary School Principal Angie Miranda. "Now more than ever children need to understand the importance of preserving and enjoying our natural resources."
The goal of the Teacher to Ranger to Teacher Program is to connect students in low-income schools with national parks, by allowing teachers a chance to live and work in them. Ms. Peterson decided the best way to share her experience was to bring the park (and a park ranger) to her students. With the help of North Cascades National Park ranger David Williams, students will spend the week learning about national parks and will be given the opportunity to earn a Junior Ranger badge. 
"National parks are special places scattered throughout the nation – but are just one type of parks set aside for families to enjoy," said North Cascades National Park Superintendent Chip Jenkins. "I am pleased that Ms. Peterson is dedicating a week so that the students of Seguin Elementary School may explore these lands and perhaps be inspired to visit one of Houston's many city parks."
More information about the week is available on Seguin Elementary School's website: http://es.houstonisd.org/SeguinES/Natl_Pk_Week.htm
More information about the Teacher to Ranger to Teacher program is available at: https://www.nps.gov/wupa/forteachers/trt.htm
More information about the Junior Ranger program is available at: https://www.nps.gov/learn/juniorranger.htm
More information about the WebRangers program is available at: https://www.nps.gov/webrangers