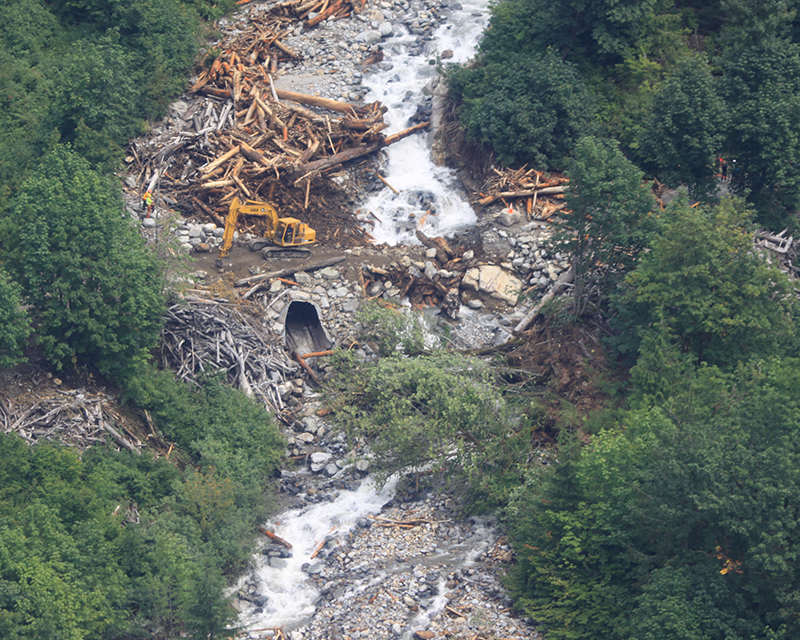 News Release Date:
August 13, 2013
Contact: Rick Acosta, Information Officer, 360-854-7356
Marblemount, WA – August 13, 2013 – In less than 24 hours after a torrential rain event created a 15 foot deep and 60 foot wide chasm in the popular Cascade River Road, employees of the North Cascades National Park took immediate action, and created a temporary vehicle crossing allowing 70 stranded hikers to drive out of the Cascade Pass trailhead parking lot.

Last Sunday's rain event washed out the Cascade River Road in the early evening approximately 1 ½ miles down canyon from the trailhead forcing hikers to spend Sunday night and part of Monday at the trailhead.  While the hikers were stranded during Sunday night, National Park Service Rangers were on site assisting the public.  On Monday, the National Park Service provided food, water, and medication to the stranded hikers through the use of a helicopter.  According to hikers who exited the area after the temporary fix was completed, "The National Park Service was very accommodating to our needs, and worked really fast to get us out."  Another hiker commented that she "was surprised at how soon she was able to drive out of the trailhead given the huge size of the wash-out."

The Cascade River Road is closed to vehicle access at the Eldorado parking lot (mile post 20) until a more permanent repair can be completed, but foot traffic will be allowed adding three additional miles of hiking to reach the Cascade Pass parking lot and trailhead.  A National Park Service engineer is assessing the situation in more depth today.

Images of the initial flood damage are posted at: https://www.flickr.com/photos/northcascadesnationalpark/sets/72157635049191212/. More will be added as they become available.

Cascade Pass is one of the most popular destination hikes in North Cascades National Park. The trailhead is located approximately 23 miles from the junction of the Cascade River Road and Highway 20.

For information on alternative hikes in the park, please call the Wilderness Information Center at 360-854-7245.