Agnes Creek Bridge Destroyed by Tree
Date:
April 12, 2007
Contact:
Charles Beall, (360) 856-5700 ext. 365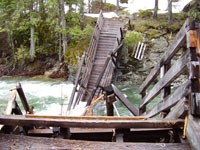 A North Cascades National Park wildlife survey crew discovered today that the Agnes Creek Trail footbridge had been destroyed by a fallen tree. "It is not clear exactly when the damage occurred, but the number of downed trees which our crews have encountered while opening trails this spring has been impressive," explained Trails Foreman Craig Holmquist. 
The destroyed bridge is located one-half mile from the Agnes Creek Trailhead in the Lake Chelan National Recreation Area. The Agnes Creek Trail is part of the Pacific Crest Trail which spans from Mexico to Canada. Alternatives for a temporary crossing are being developed and are anticipated to be in place by July 1 and in advance of the summer hiking season. Permanent replacement of the bridge may take up to one year. A subsequent release will be distributed when the temporary crossing is in place.
"Agnes Creek cannot be safely forded at this time of year – hikers are advised to not attempt crossings of this or any other creeks where bridges are damaged," warned Holmquist. For up-to-date trail information and assistance in planning alternative routes, please visit www.nps.gov/noca or call park headquarters at 360-856-5700 x.515.
Last updated: August 11, 2017