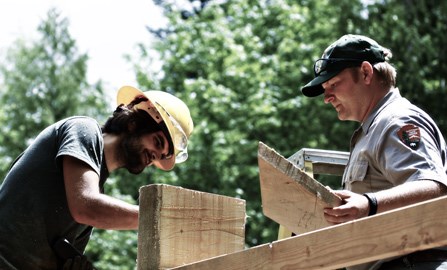 Successful stewardship of our natural and cultural heritage and maintaining a safe, accessible, enjoyable, and educational place to visit requires substantial funding. Although taxes help offset the costs of operating parks like North Cascades National Park Service Complex, they do not cover all of them. As expenses to maintain and staff our parks rise each year, government funding is unable to keep up.
In an attempt to address this shortfall, Congress passed the Federal Lands Recreational Enhancement Act, which helps spread some of the operating costs among the people who use the parks.
How does it work?
North Cascades National Park Service Complex does not collect an entrance fee or charge for backcountry permits. However, campground and other fees are used to fund park projects. Eighty cents of every dollar collected stays in the North Cascades. The remainder is shared among parks that cannot collect fees because their founding legislation prohibits it.
How are my fees used?
A variety of projects that improve the conditions of natural and cultural resources and make the park a safer place to visit including:
As you explore the park, look for the UserFee logo marking other projects supported by fees.
Thank you for your support!