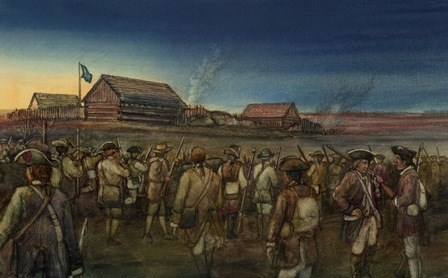 Two forts stood at the same location - one in 1775 known as Williamson's Fort and the other was called the Stockade (Holmes') Fort in 1781.
Wiliamson's Fort, 1775

In 1775 Loyalists precipitated the battle by seizing a shipment of gunpowder intended as a gift of friendship to the Cherokee. In response to this hostile act, Patriot Major Andrew Williamson mustered 500 troops at Ninety Six. His men built a makeshift fort on the high ground, just west of the jail. The simple square structure was made of fence rails, baled hay, and beef hides and enclosed a barn and outbuildings.
On November 19, 1775, loyalist commanders Captain Patrick Cunningham and Major Joseph Robinson arrived with 2,000 men. Though greatly outnumbered, the Patriots in the fort would not surrender. Several days of fighting followed leaving several wounded on both sides. Patriot James Birmingham was the first patriot killed in the South in the American Revolution. A Loyalist officer, Captain Luper, also died. Days later a truce was arranged.
This was the first southern land battled of the Revolutionary War and all the men fighting here were Americans.