Online Tour Stop 10 - Final Assault
"I only have to lament that such brave Men fell in such an unsuccessful attempt." -- General Nathanael Greene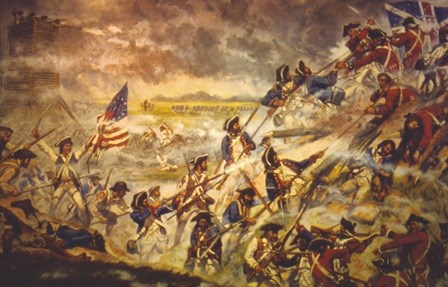 Throughout the siege, Greene noted that, "our success is very doubtful."
General Greene was ready to end the siege and leave Ninety Six. But instead he did something that not many commanders do– let the soldiers decide the course of action. Subordinates desperately urged for one last effort to capture the fort; Greene agreed and a plan was put in place.
At noon on June 18, with the boom of artillery, the Patriot attack on the Star Fort would begin. The Forlorn Hope consisting of 50 brave men volunteered for the futile charge toward the Star. They emerged armed with muskets, axes, and hooks to tear the Fort's outer defenses. Greene's force faced difficulty from multiple angles as they attempted to breach the fort walls. In addition to the strong defensive works, the Loyalists protected their position with bayonets and spears as well as heavy musket, rifle, and cannon fire. Greene halted the final assault an hour after it began. The losses were devastating to the Patriots– 30 were now dead.
Last updated: April 14, 2015