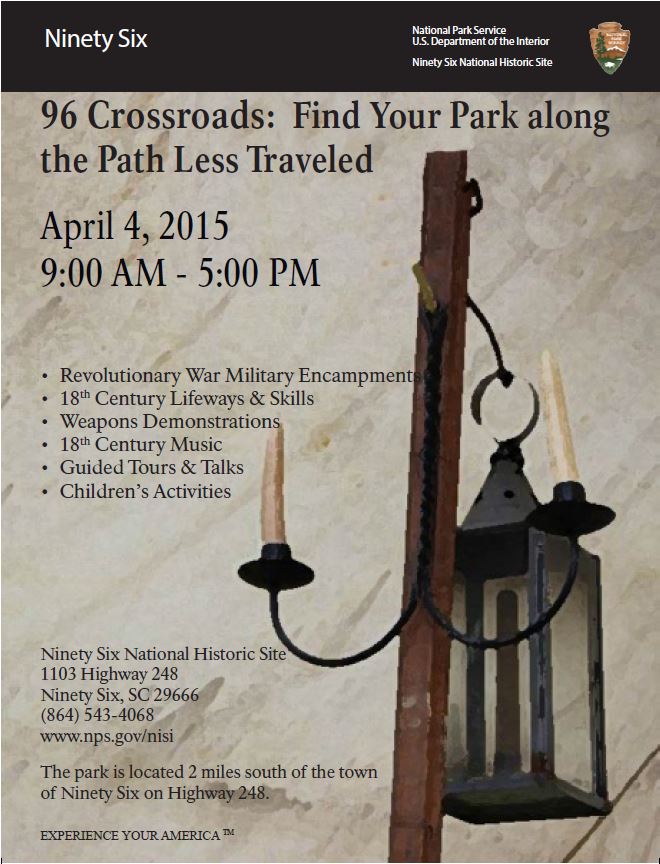 News Release Date:
March 1, 2015
Contact: Sarah Cunningham, 864-543-4068
NINETY SIX, South Carolina: Ninety Six National Historic Site will host 96 Crossroads: Find Your Park along the Path Less Traveled on Saturday, April 4, 2015. The event will be one day only due to the Easter holiday. Scheduled activities will be held from 9:00 am until 5:00 pm on Saturday.The Visitor Center will be open from 9:00 am to 5:00 pm on Saturday.
Highlights of the event include a variety of programs. Attend historic weapons demonstrations, and join a lecture about the Southern Campaign of the American Revolution. Wander through the encampments to discover military and camp life as well as hear from the distaff, or the women and children that followed the troops.Meander amongst the civilians who demonstrate daily lifestyle activities and practice different crafts and trades.Jim McGaw will be conducting a talk on 18th century music and playing on a dulcimer. The Sons of American Revolution will commemorate the lives lost at Ninety Six with a wreath-laying ceremony.Children's activities will occur throughout the day.
Don't forget to stop by the visitor center to watch the park movie, Ninety Six: Crossroads of a Revolution, browse the bookstore, and discover artifacts in the museum. All activities are free and open to the public.In case of inclement weather, some activities may be cancelled.
Ninety Six National Historic Site is home to battlefields from the French and Indian War and Revolutionary War and much more. The park is located 2 miles south of the town of Ninety Six on Highway 248.For additional information, visit www.nps.gov/nisi/index.htm or call (864) 543-4068. Follow us on Facebook at www.facebook.com/ninetysixnps.