Accessibility
River access is difficult for wheelchair users. Public access ramps are steep and either graveled or a mixture of sand and gravel atop an anchored Miraweb (black plastic) base. The USFWS constructed an accessible ramp in 2006 just below the Cornell Bridge on the east bank of the river. There is, however, no accessible take-out point downstream at this time.
Please call the USFWS (402) 376-3789 or the NPS (402) 376-1901 for advice/information regarding floating the river for those people with disabilities.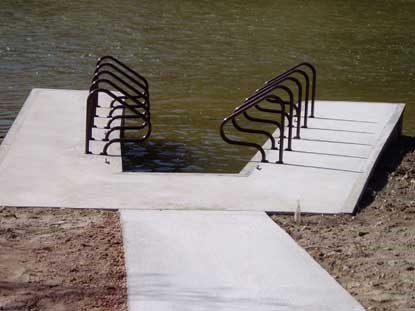 Visitor Center Accessibility

We offer audio description and assistive listening for the park film and other audio visual features. Service animals are welcome in the visitor center.
Are you bringing a service animal?
You and your service animals are always welcome in the Niobrara NSR Visitor Center.

If you intend to walk on one of the trails in the area, please be aware that many grasses here have very sharp burs. We recommend bringing boots for the animal to help protect their feet.

Please feel free to contact us if you have any questions to ensure a safe visit for both you and your animal.


Last updated: December 7, 2017