Waterfalls and Springs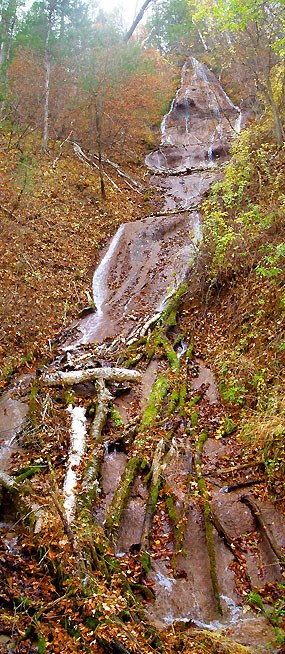 The Niobrara River drains nearly 12,000 square miles and cuts through four rock formations. These formations provide the underground "plumbing" that supplies the numerous springs and waterwalls visible along or near the river.
Four distinct geologic layers can be seen along the 76 mile National Scenic River. Each tells the story of the earth at the time it was formed.
The topmost layer of rock is the Ash Hollow formation, a grayish cap-rock best seen on hills north of the river.
Underlying this is the Valentine formation. This deposit forms steep cliffs along both sides of the river and is composed of poorly cemented light-colored sandstone.
Below this lies the Rosebud formation. This more resistant rock accounts for many of the river's rapids between Borman and Norden bridges in the popular canoeing section.
The Rosebud also provides the erosion resistant layer over which flows tributary or springbranch streams that often tumble dozens of feet to the valley floor. These springbranch streams have some of the most beautiful waterfalls in the state.
Over 230 waterfalls have been recorded along the Niobrara.
Further downstream near Meadville, the river cuts through shales of the Pierre formation.
An extraordinary deposit of groundwater known as the Ogallala Aquifer formed over eons of time from rain that saturated underground sand and rock layers. In the Niobrara Valley, the river has cut into the plains as much as 300 feet. The aquifer waters seep out of the valley walls into the river all year long.
Waterfalls & Springs Gallery: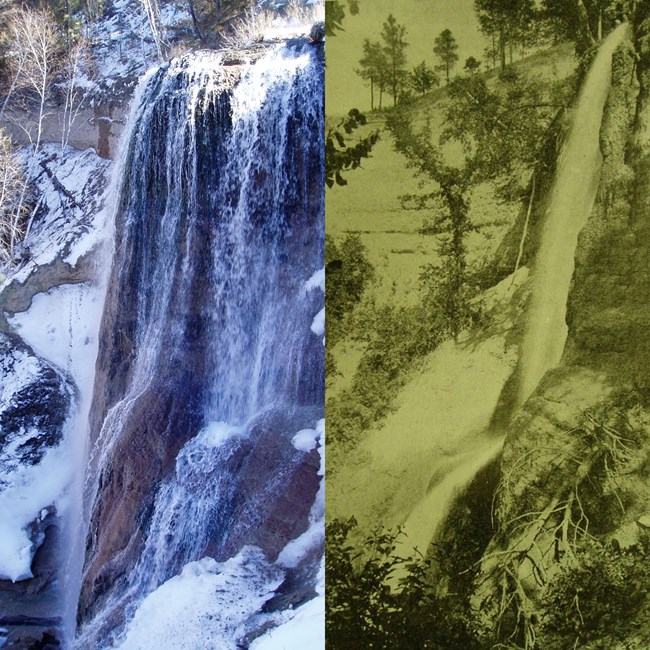 Then and Now:
Highlighting Smith Falls
Smith Falls is an iconic waterfall in the State of Nebraska. It is the tallest waterfall in the state and has been a popular stop for floaters and visitors for many years. Native Americans traversed the Niobrara River and utilized areas, such as Smith Falls. Native Americans believe "water is life" and these areas were sacred. Early settlers first knew the waterfall as Arikaree Falls. In 1896 the first homestead patent for the land that the waterfall resides was filed by Frederic Smith. Since then the falls have been known as Smith Falls. In 1941 Fred Krzyzanowski purchased the land; in 1992 the Krzyzanowski family leased the land to the Nebraska Game and Parks to form Smith Falls State Park.
Last updated: August 1, 2020