For Teachers
National Park Service Interpretation and Education programs actively engage participants in learning about the outstanding water quality, biodiversity, scenery, geology, paleontology, and recreation that make Niobrara Nebraska's National Treasure.

The Niobrara NSR has experienced park rangers dedicated to providing quality, standards-based in-class or field trip experiences tailored to individual teacher or school goals. Call the park at 402-376-1901 to find out more about available programs.

In addition, explore our Parks as Classrooms page to find a sample of available curriculum materials and information on planning your very own field experience at Niobrara National Scenic River. These materials are available to be used by teachers or to be presented by a park ranger.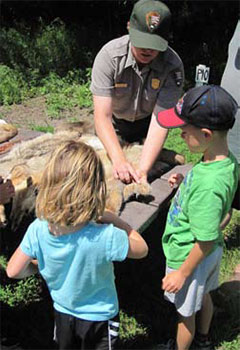 Last updated: April 19, 2018