Volunteer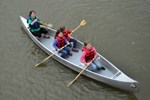 Share your love of the Niobrara National Scenic River by volunteering your time with the National Park Service.
Short-term (1-day) volunteer opportunities exist to assist staff with river clean up (paddling the river to pick up trash and other debris), special events, and assisting with data collection for resource management.
If there are no opportunities listed below, contact the park volunteer coordinator at 402-376-1901 to discuss your interests and how they might be matched with park needs.
Current Volunteer Opportunities
Last updated: January 2, 2018