Grandview Visitor Center

Grandview Visitor Center is located in the Grandview section of the park at the highest elevation in the park and perched along the edge of the gorge where visitors will find a stunning view looking nearly 1,400 feet down from the rim to the river. While Grandview is open year round, the Grandview Visitor Center is open seasonally, normally Memorial Day through Labor Day, from 12:00 PM to 5:00 PM. It may be open intermittently later into the fall depending on staffing.
The Grandview section of the park includes outstanding overlooks of the New River, hiking trails, ranger-led walks and talks, summer outdoor dramas, and picnic areas with playgrounds. For more information about Grandview, visit the
Grandview page
.
To reach Grandview from Beckley follow I-64 East five miles to Exit 129 B. From Lewisburg follow I-64 West forty miles to Exit 129. From either exit, turn right and follow Route 9 north for five miles to Grandview.
Winter 2018-2019 Grandview Visitor Center Hours:
New this year, the Grandview Visitor Center at Grandview will be open four days a week, Friday through Monday, from 9:00 am to 5:00 pm. It will be closed on Christmas and New Year's days.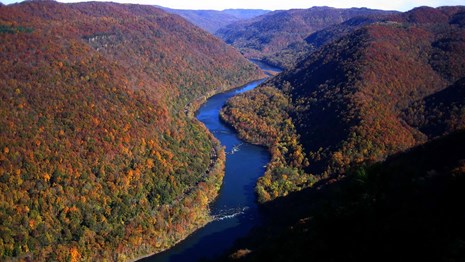 Grandview
Perched on the edge of the gorge 1400 feet above the river, Grandview provides some of the best views of the gorge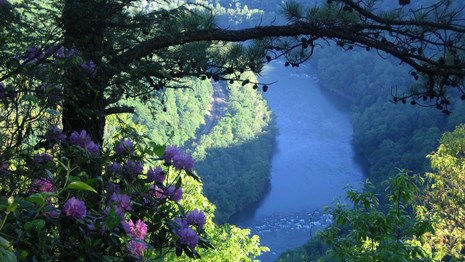 Grandview Area Trails
Six miles of trails at Grandview offer spectacular views, rock formations, and woodlands.
Last updated: December 13, 2018