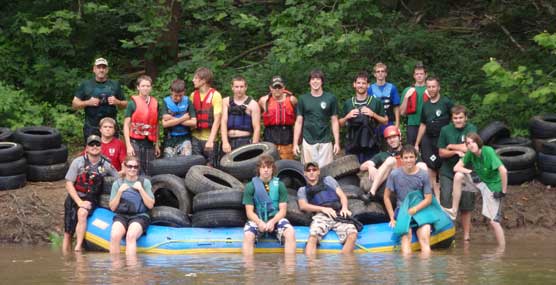 News Release Date:
September 2, 2010
New River Gorge National River

Clean Up: Over 1500 Tires Removed From New River
The National Park Service, with assistance from many friends of the park, has removed over 1500 tires from the New River this summer. The Boy Scouts of America - Mountain River Rangers, The National Committee for the New River, Rangers in Training-Awesome Adventures Summer Camp, West Virginia Professional River Outfitters(WVPRO), Greenbrier Academy for Girls, Valerie Pack, and the park's teacher-ranger-teacher, Carolyn Buzbee, all assisted park service employees with the clean up. The majority of tires were gathered between Hinton and Thurmond. In addition to the tires, 750 large bags of trash which included aluminum cans, plastic bottles, and other assorted waste, were collected. Also an estimated ton of other trash which included pieces of metal, lawn chairs, coolers, pvc pipe, 55 gallon drums, orange DOT barrels, and other large items were removed from New River.
The National Park Service would like to thank all those involved with the river cleanup. New River Gorge National River and southern West Virginia is a special place. It abounds with scenic beauty, and offers many recreational opportunities such as hiking, camping, fishing and rafting, and many more. This area also provides important habitat for plants and wildlife. Please help keep it clean and safe by properly disposing of trash and debris. If you or your group would like to volunteer for a project with New River Gorge National River contact volunteer coordinator Mark Bollinger at (304) 466-0417 x11 or at Mark_Bollinger@nps.gov.