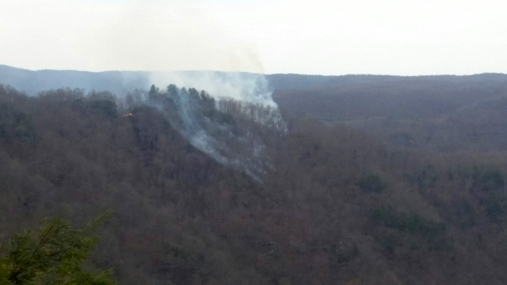 News Release Date:
April 6, 2016
Contact: Julena Campbell , 304-465-6523
A wildland fire is A wildfire is burning in the Grandview area of New River Gorge National River. The Turkey Spur Fire was discovered this morning around 10:00 am and is estimated to be 20 acres as of 4 :00 pm. The fire is actively burning in extremely steep, rugged terrain through a mixed hardwood forest. Strong gusty winds and low relative humidity allowed the fire to grow quickly throughout the day. Fire managers estimate it to be 20% contained as of this afternoon. The fire had already burned portions of the recently installed new stairs and extensive boardwalk leading up to the Turkey Spur Overlook by the time firefighters arrived on scene.
The Grandview area remains open, but the Turkey Spur Road, Turkey Spur Overlook, and the northern portion of the Grandview Rim Trail are closed. Nearly 40 firefighters are working to contain the fire. The National Park Service is being assisted by personnel from the Beaver Volunteer Fire Department (VFD), Bradley-Prosperity VFD, Coal City VFD, Ghent VFD, Sophia Area VFD, Sophia City Fire Department, West Virginia Division of Forestry, and Jan-Care Ambulance Service, Inc.
"We appreciate the swift and robust response from so many cooperating agencies," said New River Gorge National River Chief Ranger Duane Michael. "We will continue to work together to safely and efficiently contain the fire. The slopes below the Turkey Spur Overlook are very steep and very rocky. Our number one priority is always the safety of our firefighters."
Although the forecast calls for a chance of rain overnight, the fire danger in the area is currently rated "Very High." This means that fires start easily, spread rapidly, and can quickly increase in intensity. At New River Gorge National River, campfires are only allowed in park-provided fire grills in campgrounds or picnic areas. Additionally, throughout the state of West Virginia, restricted burning regulations are currently in effect throughMay 31. Outdoor burning is prohibited from 7:00 am to 5:00 pm.
To learn more about fire management in New River Gorge National River, visit www.nps.gov/neri/learn/management/firemanagement.htm 
About the National Park Service. More than 20,000 National Park Service employees care for America's 410 national parks and work with communities across the nation to help preserve local history and create close-to-home recreational opportunities. Learn more at www.nps.gov.  
Follow us on NewRiverGorgeNPS on 
Facebook
Twitter
flickr
YouTube
Instagram