Date:
July 11, 2014
Contact:
Robin Snyder, 304-640-0724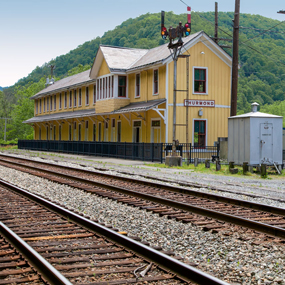 Glen Jean, West Virginia,July 11, 2014– Discover what life was like in one of the New River Gorge's most renowned towns! Join National Park Service rangers and Operation Lifesaver on Saturday, July 19thfrom10:00 AM – 2:00 PMto explore the historic railroad town of Thurmond and to learn safety tips for rail crossings and along the railroad tracks. The National Park Service, the Thurmond Performance Team, and Operation Lifesaver are partnering to sponsor the first annual Thurmond's Railroad Day for visitors of all ages to come and go as you please.
Operation Lifesaver will provide educational materials, displays and video presentations that emphasize the value of rail transportation and promote rail safety. Located in all 50 states, Operation Lifesaver raises awareness and improves public safety on and around highway-rail grade crossing and tracks through public awareness and education. Visitors can get their picture taken on an historic railroad handcart while wearing their railroad hats. NPS interpretive rangers will assist folks in printing a copy of their pictures as a keepsake of their visit to Thurmond.
Thurmond's Railroad Day will also feature historic walking tours that celebrate the rich stories of this historic boomtown and the railroad that built it. Join a ranger for a walking tour of Thurmond's commercial row at10:00 AM,11:00 AM,12:00 PM, and1:00 PM. Meet at the Thurmond Visitor Center at any of these designated times for this half mile walking tour.
Finally, join a ranger for the Rend and Railroad Hike from 2:00 PM – 4:30 PM. Meet at the Rend Trailhead located on Route 25 near Thurmond for this 3 mile hike that provides an easy stroll along an abandoned branch line of the Chesapeake and Ohio Railway.
The Thurmond Depot Visitor Center is open daily until Labor Day from10:00 AM – 5:00 PM.
Park updates will be posted to the park's website at www.nps.gov/neri. You can also find updates on the park's Facebook page at https://www.facebook.com/newrivergorgenps orfollow us on Twitter at https://Twitter.com/NewRiverNPS.