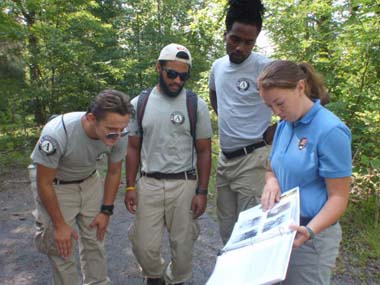 News Release Date:
July 23, 2014
Contact: Robin Snyder, 304-640-0724
New River Gorge National River, a unit of the National Park System, in partnership with the Appalachian Coal Country Team (ACCT) is excited and proud to announce that they are hosting a National Civilian Community Corps (NCCC) Team at Camp Brookside, located near Hinton, WV.
NCCC Teams consist of young men and women, 18 to 24 years old, and each team consists of8 – 12 members. All members have earned their place on an NCCC Team by demonstrating a commitment to serve their community and to develop practical skills. Hosting a NCCC Team gives New River Gorge National River an opportunity to bring to the community a team of young, driven individuals who are committed to making a difference.
The NCCC Team started working at Camp Brookside on Monday, July 21stand will be providing service projects at this location until Tuesday, July 29th. During this time, the Team is assisting with a variety of projects including invasive species removal, painting cabins, clearing debris from the buildings, sanding and finishing floors in the cabins, and more.  
The NPS recently received funding to rehabilitate historic Camp Brookside, which operated from 1947 until the early 1960s as a camp for the children of employees of Union Carbide. Park maintenance staff is working on the construction of this site that includes a large dining area, cabins, a bathhouse and a caretaker's residence with the intent of establishing residential youth camp and environmental education center. The NCCC Team is providing valuable service that will help park staff prepare Camp Brookside for future programming to accommodate individuals of all ages. 
For more information about volunteering, or to find out more about New River Gorge National River and the Camp Brookside Project, contact Robin Snyder at 304-640-0724 or send an email to e-mail us. Media outlets are welcome to visit the site, located along Route 20 to check out the NCCC team working alongside park staff and youth interns.
New River Gorge National Riverwas designated as a unit of the National Park Service in 1978 protecting 53 miles of one of the oldest rivers in the world. The park protects 72,808 acres along the New River from the Bluestone Dam to the Hawk's Nest Lake. Here in southern West Virginia, the New River carved the deepest and longest river gorge in the Appalachian Mountains. In addition to the abundance of natural, scenic, and recreational offerings in the is National Park Service unit, the park also provides a glimpse into the unique cultural history of the New River Gorge including coal mining and railroad history. Education, community engagement and youth programs are critical in protecting park resources and encouraging stewardship of these public lands.   Park updates are posted to the park's website at www.nps.gov/neri. You can also find updates on the park's Facebook page at https://www.facebook.com/newrivergorgenps or follow us on Twitter at https://Twitter.com/NewRiverNPS.
The mission of the ACCT is to assist rural communities impoverished by environmental degradation and its consequences in making their home-place-watersheds healthier places to live and work. The ACCT is supported by an innovative partnership among the Office of Surface Mining, Reclamation and Enforcement (OSM), concerned with environmental reclamation; AmeriCorps VISTA, concerned with poverty; and by local community improvement/watershed groups. The ACCT began placing determined, college-trained men and women for a year of service in rural mining communities in 2001. OSM/VISTAs work directly with community members to build local capacity, encourage environmental stewardship, enhance outreach and education, engage in economic development and assist in the professional development of OSM/VISTAs and their sponsoring organizations. With its Support Office in Beckley, WV, the ACCT works throughout seven Appalachian states (Kentucky, Maryland, Ohio, Pennsylvania, Tennessee, Virginia, and West Virginia) and is sponsored by Conservation Legacy.