Date:
April 15, 2013
Contact:
Robin Snyder, 304-640-0724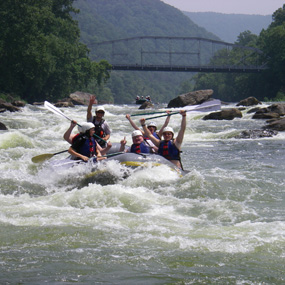 Glen Jean, WV, April 12, 2013 - Have you ever wanted to go whitewater rafting, rock climbing, mountain biking, hiking and more in the gorge? Join National Park Service rangers to participate in a series of fun and educational adventures at New River Gorge National River this summer.
 
If you are a student in Summers, Raleigh, or Fayette counties and between the ages of 14 and 17, you can sign up for a free summer adventure program offered by the National Park Service. The park is currently accepting applications for its Rangers-In- Training summer adventure program. Teens will participate in four day-trips where they will experience new and challenging outdoor activities, make new friends, learn about their national park, and simply have fun. There will be two sessions being offered this summer from June 17th - 20th and June 24th - 28th. To apply, complete the application located at https://www.nps.gov/neri/forkids/rangers-in-training.htm and return it to the park at the address on the form or contact Mark Bollinger at 304-640-8731.
 
Rangers-in-Training is designed to engage underserved youth, ages 14-17, from local communities to play outside and explore their park. Youth participate in a series of safe, supervised, fun, and exciting outdoor adventures that enhances their appreciation of New River Gorge National River, encourages a love of the outdoors and allows participants to explore career opportunities with the National Park Service.
 
Things You Should Know
*The Rangers in Training program is a free program. You must submit an application for selection.
*Teens selected to participate are expected to attend all four day-trips
*Students will need to have transportation to and from a designated high school in their county.
*Free transportation from the high school to the adventure site will be provided as well as lunch each day.
*Teens selected are required to have an emergency contact form and signed safety release form(s) before attending the day-trips.