Patricia Kicklighter Named New River Gorge National River Superintendent
Date:
April 12, 2013
Contact:
Jane Ahern
, 215-597-0865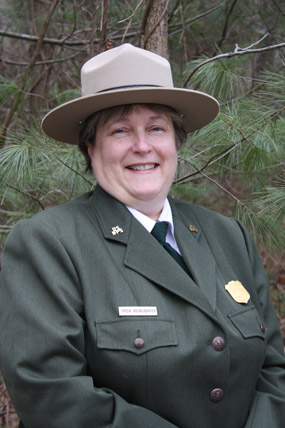 Philadelphia -- Patricia "Trish" Kicklighter has been selected as the new superintendent of New River Gorge National River and the associated Gauley River National Recreation Area and Bluestone National Scenic River. Since 2009, she has been the Superintendent at Assateague Island National Seashore. Kicklighter succeeds former Superintendent Don Striker, who moved to Alaska earlier this year to become superintendent at Denali National Park and Preserve. Kicklighter begins her new assignment in mid-May.
"Trish brings a wealth of experience to her new position," said Northeast Regional Director
Dennis Reidenbach. "She is a superb leader with a clear vision of how to cooperatively manage for the right balance of preservation and recreation. Her groundbreaking work on the General Management Plan at Assateague set a new benchmark for the National Park Service in how we address the realities of climate change in various park environments."
"I am honored to be chosen as the new Superintendent at New River Gorge. I started my career as a river ranger at Ozark National Scenic Riverways. I am thrilled to be returning to my roots -a river and the mountains what a wonderful combination."
Kicklighter has spent 30 years working for the National Park Service. Ms. Kicklighter started
her career in the Park Service as an interpreter at Ozark Scenic Riverways in Missouri and
Cabrillo National Monument in California. She then switched to administration specializing in budget at Point Reyes National Seashore, the Pacific West Regional Office and the Harpers Ferry Design Center. In 2001, she transferred to Shenandoah National Park as the Deputy
Superintendent and Chief of Administration where she was responsible for overall park
operations.
During Kicklighter's tenure at Assateague National Seashore, she led the park in developing an innovated General Management Plan that addresses potential impacts from climate change and sea level rise; various construction projects such as the Seashore's new visitor center, island ranger station, creation of an environmental education facility, and storm damage repairs from four different storm/hurricane events. She has also led the park in reducing the park's carbon foot print by establishing a recycling program and increasing the use of solar power. In all of these efforts she collaborated with local communities, the public, and state and federal agencies.
Ms. Kicklighter is a native Missourian, and graduated from Missouri State University with a B.S. in Wildlife Conservation and Management. Trish and her husband Wayne love to travel and especially enjoy canoeing and white water rafting. Her other hobbies include being an avid quilter and photographer.

Last updated: February 26, 2015