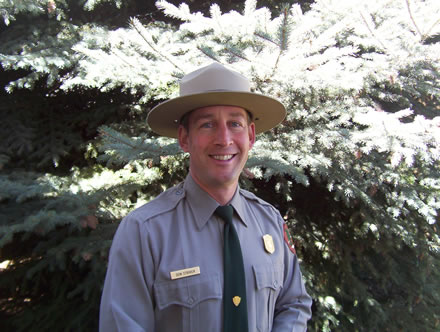 News Release Date:
April 13, 2007
Contact: Lorrie Sprague, 304 465-6521
Don Striker is the new superintendent at New River Gorge National River and the associated Gauley River National Recreation Area and Bluestone National Scenic River.  Striker succeeds superintendent Calvin Hite, who retired in January. Striker will begin his new assignment on April 29th.
"Don brings a great combination of experience to the job from National Park areas across the country and from his work in headquarters and management," said regional director Chrysandra Walter. "Don's work shows a commitment to actively engaging park neighbors to identify and affect an appropriate balance of preservation and recreation in America's special places. This commitment and his refreshing ability to apply modern business principles to thorny federal government problems make him uniquely qualified for this important position."
"I am honored to have been selected as the next Superintendent of these three important rivers in southern West Virginia," said Striker. "I know I have big boots to fill and am excited to build on the excellent foundation of collaboration established by former superintendents Cal Hite and Pete Hart."
Since 2003, Striker has been working on several new financial management initiatives for the National Park Service and the Department of the Interior as a special assistant to the comptroller.  Striker began work with the National Park Service in 1990 as a consultant who implemented the Service's financial systems. He leveraged his prior experience to help shape the future and direction of financial management systems in the Department working at the Accounting Operations Center, and as comptroller at Yellowstone National Park.  Striker pioneered the use of business plans for NPS units and recently helped to shape the new "Scorecard" and internal control and accountability systems used throughout the Service.
Striker also has significant operational experience in parks. He served as the superintendent at Mount Rushmore National Memorial in South Dakota and at Fort Clatsop National Memorial (now Lewis and Clark National Historical Park) in northwest Oregon.  At Mount Rushmore, Striker implemented post-9/11 security measures, negotiated several complex concessions contracts, and led an environmental assessment process to examine the merit of a controversial Fourth of July fireworks program.  At Fort Clatsop, Striker brought together communities in Oregon and Washington and laid the foundation for a major park expansion encompassing both sides of the Columbia River.
Born in West Point, New York, Striker grew up outside of Philadelphia and graduated from the University of Pennsylvania's Wharton School of Business with a bachelor of science in economics.  It was there that Don met his wife of twenty years, Gretchen. Gretchen and the Striker's three children, Ryan 15, Bobby 13, and Kali 12, are excited to be moving to another haven of outdoor adventure and rich history.   The Strikers enjoy camping, hiking, and hunting and stay very active in community sports and band.  Gretchen is a high school math and science teacher.