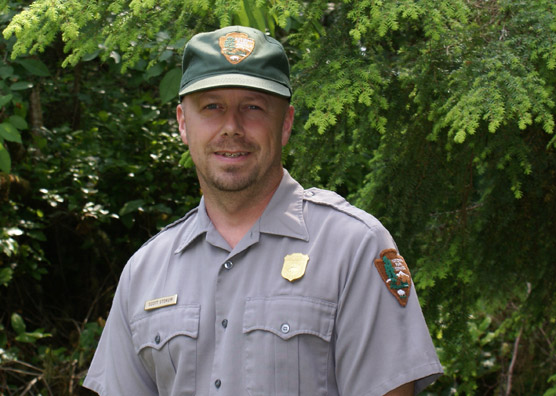 News Release Date:
July 9, 2008
Contact: Deborah Darden, 304 465-6509
"We are extremely proud to announce the addition of Scott Stonum to our staff at New River Gorge National River," said National Park Service (NPS) Superintendent Don Striker. "Scott was recognized nationally by our agency as a 2007 Resource Manager of the Year—he is a top-notch employee who will be a tremendous asset to our three parks."
"Scott's national award was based on a restoration project that more than doubled the amount of tidal marsh along the lower Lewis and Clark River in Oregon. His efforts will reconnect 54 acres of diked pasture to the river and allow the slow conversion to native riparian, willow and Sitka spruce swamp communities. He helped acquire the property, obtained more than $700,000 to make the project happen, secured state and county support and permits, and won the participation of key partners and landholders throughout the watershed. Those skills will be extremely valuable in his new position," observed Striker.
Stonum will be responsible for overseeing the natural and cultural resource management programs, as well as planning at New River Gorge National River, Gauley River National Recreation Area, and Bluestone National Scenic River. Water quality monitoring, wildlife and vegetation management, endangered species monitoring, archeological and cultural resource management, environmental compliance, minerals management, and development of plans for trails and camping management will all be under his purview.
"Scott has worked his way up through the ranks of resource management positions at Crater Lake, Joshua Tree, North Cascades and most recently, at Lewis and Clark National Historical Park. He has published technical reports and served as a wildlife specialist on a National Interagency Fire Team from 1994 to 2003," continued Striker. "Having amassed a hands-on background in a variety of parks gives him a tremendous depth of experience that will be invaluable here."
A 1990 graduate of Oregon State University with a B.S. in Wildlife Science, Stonum and his wife, Lori, will arrive in the area late this summer. They have two children, a daughter, Brenna, and a son, Aidan. "Scott reports that the family loves outdoor activities, especially hiking, swimming, astronomy, and fishing. They are anxious to see what new adventures await them here in the New River Gorge," stated Superintendent Striker.