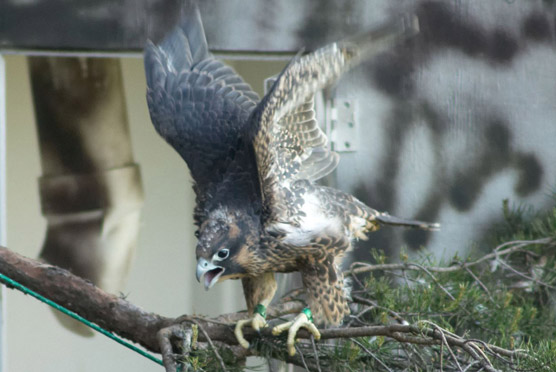 News Release Date:
May 22, 2008
Contact: Greg Phillips, 304 465-6546
2008 marks the third in a multi-year program to reintroduce peregrine falcons to the New River Gorge Region.  A collaborative effort between the National Park Service, the WV Department of Natural Resources, Three Rivers Avian Center, local landowners and birders, the program has already shown outstanding results, including the largest release of peregrine falcons in a single season in US history.
The new season is already underway.  Two weeks ago, five peregrine falcon nestlings were transported from dangerous nesting areas on bridges in coastal Virginia to a designated release site in the New River Gorge.  The birds were placed in a specially designed box that allowed them to see and get to know their new surroundings, then on May 21st all five were released to begin their first flights.  Up to 20 more nestlings will be brought to the Gorge in the following weeks to follow the same process.  The next nestlings are already preparing for transport by the WV Department of Natural Resources to be placed in the box to view their new home, and they can be watched on the internet via webcam at www.nps.gov/neri/naturescience/peregrine_2008.htm after Tuesday, May 27th.
Peregrine Falcons are recovering from pesticide poisoning which caused such population loss that they were one of the most famous species on the Endangered Species List.  Elimination of the use of DDT in the US and other measures have brought this amazing falcon back from the brink of extinction.  They eat waterfowl and pigeons as well as other large birds but have not been noted coming to bird feeders, according to Wendy Perrone, program coordinator and Executive Director of Three Rivers Avian Center. "The peregrine is a predator who makes its living by diving on its prey from way up in the sky.  When we've investigated reports of a raptor taking a bird from a feeder, we've found them to be sharp shinned hawks or coopers hawks, which hunt by ambush and sometimes chase birds at feeding stations."
"We are very lucky to have this amazing bird in the United States, and it is a real joy to watch them find their young wings in the New River Gorge," she went on.  "They are the fastest animal on the planet, clocked in a dive by the U.S. Air Force at 263 miles per hour and in horizontal flight at 125 miles per hour.  These youngsters will be in the air all summer learning how to do such stunts.  It will be a great thing to look for when visiting the Gorge!"
The park is also enthusiastic about the success of the satellite tracking that was begun last year.  Six peregrines were recaptured in July, fitted with satellite transmitters then released to resume their normal activities.  Four of those birds are still transmitting and all four have returned to the Mid-Atlantic Region.  One is currently in Ohio, one in central Kentucky, one in the Harpers Ferry area, and one is in the New River Gorge area.  To find out where they are now, look at the tracking information on the New River Gorge National River website: www.nps.gov/neri/naturescience/peregrine_2008.htm.
For more information, contact Wendy Perrone, Executive Director of Three Rivers Avian Center and program coordinator via e-mail at wendy@tracwv.org, or Greg Phillips, New River Gorge National River, at greg_phillips@nps.gov.