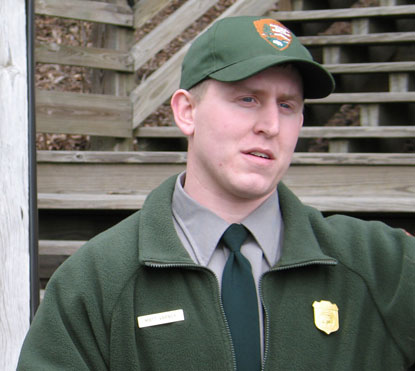 News Release Date:
February 20, 2007
Contact: Lorrie Sprague, 304 465-6521
What does a National Park Service (NPS) supervisor say about a new employee who exceeds all expectations? "Remarkable is the only word that comes to mind in describing Matt Varner's accomplishments during his first year at New River Gorge National River," said supervisor Ken Stephens. "As Wildlife Biologist, Matt took over a patchwork of programs and in nine months produced results of such high quality that resource objectives were achieved that had not even been anticipated."
Stephens and the NPS management staff at New River Gorge National River (NRGNR) were so impressed with Varner's work, they nominated him for the NPS Northeast Region's Resource Manager of the Year Award. "We were not surprised when our regional office in Philadelphia called to say they had selected Matt as their 2006 award recipient," said Acting Superintendent, Debbie Darden. "In less than one year, Matt has had a tremendous impact, coordinating our park's role in a multi-state peregrine falcon restoration program, resulting in 15 young falcons released in the Gorge last year."
Other accomplishments include his use of state of the art techniques to conduct surveys for endangered bats, nocturnal bird species, and woodrats. "Matt also has outstanding communication skills, both written and oral, and he has increased our understanding of this park's role in protecting a globally significant block of unfragmented forest in the Eastern US," added Stephens. 
A West Virginia native, Varner graduated from West Virginia University in 2001 with a BS degree in Wildlife Management. From 2002-2005 he was employed as a biologist by the US Bureau of Land Management in northern Nevada, where he also received accolades for his efforts to protect many rare species in Solder Meadow, NV and to restore the Lahontan cutthroat trout, federally-listed as a threatened species in NV.
However, the most impressive 'feather in his cap' is having a new species named after him! In recognition of Varner's extensive efforts to identify and conserve rare species while working in NV, a newly discovered mollusk has been named after him: Prygulopsis varneri . The species account for this tiny snail has been submitted by the Smithsonian Institute and will be published in The Veliger journal later this year.
Varner resides in Beckley with his wife, Danielle, and daughter, Morgan. They are expecting their second child, a son, in March.