Date:
April 2, 2013
Contact:
Robin Snyder, 304-640-0724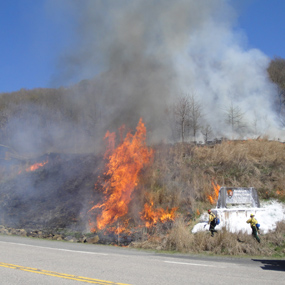 The National Park Service will conduct a prescribed burn near the Sandstone Visitor Center sometime during the first two weeks of April, when weather conditions permit. Wind speed and direction, humidity and other factors will be considered before the Fire Management Officer can determine the exact date of the burn. The area is located near the southern end of New River Gorge National River, just north of I-64 off exit 139. The burn area is a grassy section of the hillside in front of the Visitor Center, measuring approximately 5 acres. The ignition will take place at approximately 10:00 a.m. and the burn is expected to be of fairly short duration. Please note that the visitor center will be closed during the prescribed burn.
 
The purpose of the prescribed burn is to help discourage tree growth in the field areas, to encourage the growth of native grasses and to maintain the presence of native plants. The area surrounding the Sandstone Visitor Center features native grasses, trees, shrubs, and wildflowers.
 
The Visitor Center and the parking lot will be closed during this period. The burn is not expected to interfere with traffic flow on Summers County Road #7 (the road to Meadow Creek). The Green Sulphur District Volunteer Fire Department will be assisting with the burn.
 
At the completion of the burn, the Sandstone Visitor Center will reopen. The center contains exhibits about the New River Watershed including displays of the flora and fauna of the gorge area and those dealing with the rich cultural history of this special place. The center is open seven days a week, 9:00 a.m. to 5:00 p.m.
 
For questions, please contact Robin Snyder at 304-640-0724.