Date:
August 19, 2016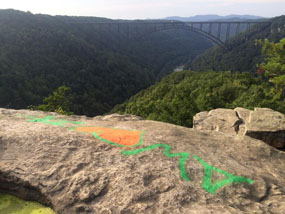 Glen Jean, WV – The National Park Service is seeking information in the investigation of recent vandalism at a scenic overlook on the Long Point Trail in Fayette County in New River Gorge National River. Sometime on or before Sunday, August 14, 2016, one or more persons used green and orange spray paint to scrawl their initials and a heart on the rocky outcrop at the end of the popular 1.6 mile trail. The graffiti, which reads "AW♥TK", measures nearly 8 feet in length and is about 2 feet tall.
"Graffiti is illegal everywhere, but it's particularly disheartening to see the lack of respect shown in this case," said Acting Superintendent Jeff West, "This is one of the most popular trails in the park. It offers outstanding views and hikers have to work to get out here. Some come for the exercise, others for the sense of place and feeling of inspiration gained in such beautiful surroundings, but no one hikes all this way to see vandalism or man-made marks on the landscape. Our community is rightly upset by this act of destruction and we appreciate the support shown in helping us find the person or people responsible."
Vandalism such as this case of spray paint graffiti is a misdemeanor crime and is punishable by up to six months in jail, and fines up to $5000. Restitution for graffiti cases frequently includes a sentence of community service as well.
Anyone with information regarding this case, or other illegal activity at New River Gorge National River, is asked to contact the National Park Service at 304-465-6516. 
About the National Park Service. More than 20,000 National Park Service employees care for America's 412 national parks and work with communities across the nation to help preserve local history and create close-to-home recreational opportunities. Learn more at www.nps.gov.  
Follow us on NewRiverGorgeNPS on 
Facebook
Twitter
flickr
YouTube
Instagram