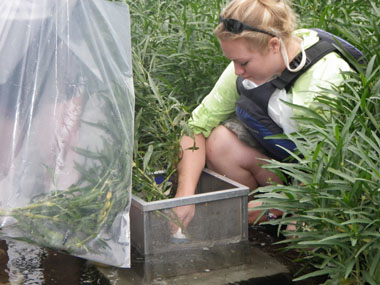 News Release Date:
July 13, 2015
Contact: Adrienne Jenkins, 304-465-2634
Glen Jean, West Virginia, July 15, 2014 - The Resource Management division of New River Gorge National River is prepping for the 2015 summer Long Term Ecological Monitoring System sampling program assessing the health of the New River and its fish and aquatic invertebrates.
The park is recruiting for volunteers to help with both of these sampling efforts which could require long work days wading in the New River and will beginJuly 20-24for fish shocking andJuly 27-31for bugging.Deadline to sign up:Friday, July 24, 2015.
Electrofishing will be the first week (20-24) and will consist of shocking fish to stun them, then identifying each one, measuring for length, weight and finally releasing them back into the river unharmed. Participants must be 18 years old.
Aquatic invertebrate collection (27-31) requires the "picking" of invertebrates (bugs), algae, and plant samples. Invertebrates are bagged and preserved on site. Algae samples are placed on ice until they can be refrigerated at the laboratory for future data collection. Children under 18 must be accompanied by a parent or guardian.
If you are interested in helping with this program or serving as a volunteer for your local National Park Site, contact New River Gorge's Volunteer Coordinator at e-mail usor call 304-465-2634. The NPS can benefit from your knowledge and expertise and your service can help you gain job skills, fulfill service project hours, and learn more about the rich natural and cultural resources here in southern West Virginia.  
Park updates will be posted to the park's website at www.nps.gov/neri. You can also find updates on the park's facebook page at https://www.facebook.com/newrivergorgenps or follow us on Twitter at https://Twitter.com/NewRiverNPS.