Improvements Coming to Boardwalk and Viewing Decks at Canyon Rim Visitor Center - Temporary Closures in Place This Summer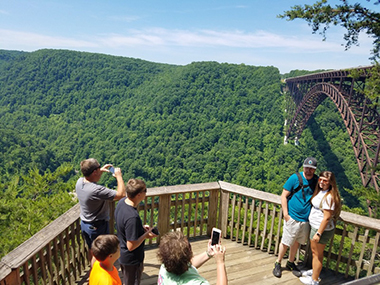 News Release Date:
June 14, 2017
Contact: Julena Campbell, 304-640-0724
Lansing, WV – The National Park Service (NPS) has received funds to replace the boardwalk system at Canyon Rim Visitor Center in New River Gorge National River. The boardwalk and associated viewing decks are relatively easily accessible from the parking lot and offer scenic views of the iconic New River Gorge Bridge, as well as views into the river gorge itself.
 
Nestled into a wooded hillside near the rim of the gorge, the boardwalk was installed in the early 1990s and has only received minor repairs over the years. It is the most highly visited area in the national park, with over 320,000 visitors to the boardwalk each year. This project will replace or repair more than 20,000 square feet of decking, more than 2,000 linear feet of railing, 178 stairs, and many of the support posts and beams. The entire project is expected to take several months and closures are necessary to ensure the safety of visitors to the area and to allow the construction to progress as quickly as possible. The project will occur in two phases, with work beginning at the bottom of the boardwalk and moving upslope later on.
 
Beginning Wednesday, June 14, everything below the upper viewing platform will be closed to the public while crews demolish and replace the stairs, landings, and the lower viewing platforms. This phase is estimated to last several months. The boardwalk that leads to the upper viewing platform will remain open during the construction project, but visitors should expect to see staged equipment and crews working in the area, and are asked to stay alert and keep out of work areas.
 
Then, as the project nears completion, the closure will be moved to the top of the boardwalk. For a few weeks in September, the entire boardwalk system, including all viewing platforms, will be closed so that crews can demolish and replace the upper portion of the boardwalk and the upper viewing platform. This closure will remain in place until the project is completed in late September. No work is scheduled to occur on Fridays, Saturdays, or Sundays, so every effort will be made to open the boardwalk system on those days, but this may vary as the project progresses, depending on safety considerations.
 

During the project, visitors to the area will be able to get views of the New River Gorge Bridge and the rim of the gorge by using an overlook located near the pet walk area at the Canyon Rim Visitor Center. This area features great views of the bridge and is a short walk from the parking lot. Additionally, large windows inside the visitor center, and a deck outside, allow for scenic views into the gorge and to the river below. 

 
Last updated: June 14, 2017