Date:
August 16, 2016
Contact:
Dave Bieri, 304-465-2516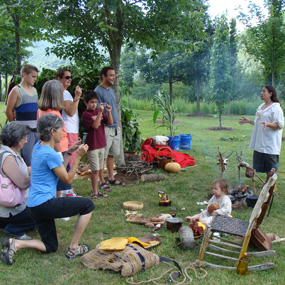 Glen Jean, WV -New River Gorge National River is hosting a special living history program,"On the Trail to Peace",at Sandstone Visitor Center on Saturday, September 3, 2016 from 10:00 am to 4:00 pm. Local living history educators Ronald, Gwendolyn, and Roslyn McAllister will join Dianne Anestis and Doug Wood to engage visitors in interactive demonstrations. In the late 1760s, the middle ground between European settlements and American Indian Nations was alive with diplomats opening up trade and peace negotiations after the end of a decade of war. Join the living history interpreters of Trails Inc. as they portray a diplomatic party traveling through the New River Gorge region to negotiate peace between northern and southern native nations, formerly at war. 
Materials and protocols of diplomacy, trade, and long-distance travel will be discussed, displayed, and demonstrated in an interactive setting of a peace mission encampment. Ongoing demonstrations on wampum manufacture, belt making, and kinnikinnick making will be presented throughout the day. Special activities include a medicinal plant walk at 11:00 am and a treaty protocol demonstration at 1:00 pm. At 3:00 pm, Cherokee War Leader, Ostenaco (portrayed by Doug Wood of the WV Humanities Council History Alive! program) will council with visitors at the visitor center to discuss the peace negotiations that he was involved with at the end of the Cherokee War with the Colonies, and his trip to England to visit with King George the Third.
In the event of inclement weather, the demonstrations will be moved indoors. This program is free and visitors of all ages are welcome. Stop by any time between 10:00 am and 4:00 pm. Sandstone Visitor Center is located just north of the I-64 and State Route 20 interchange at exit 139 (the Hinton/Sandstone exit). For more information call Sandstone Visitor Center at 304-466-0417.
Park iformation and tools to help plan a visit to the national parks of Southern West Virginia, New River Gorge National River, Bluestone National Scenic River, and Gauley River National Recreation Area,are also online at www.ps.gov/eri,www.nps.gov/blue, and www.ps.gov/gari.