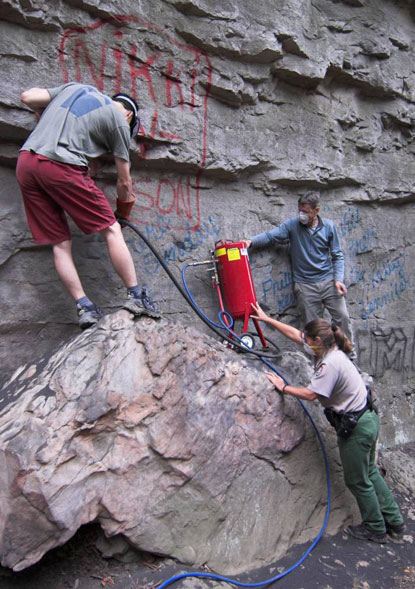 News Release Date:
May 8, 2007
Contact: Gary Hartley, 304 465-6518
Over the May 5-6th weekend, National Park Service (NPS) employees worked with volunteers from the New River Alliance of Climbers (NRAC) to remove graffiti from the Beauty Mountain cliffs in New River Gorge National River near Fayetteville, WV.
The NPS and NRAC teamed up to tackle the project which required carrying a gas powered compressor, sandblaster and several 100 pound bags of sand into the site, which was a half mile from the nearest road. "Carrying the heavy equipment through rocky terrain and up to the cliffs was challenging, but the climbers are in good physical shape and they made it look easy," observed NPS Chief Ranger Gary Hartley. "It's their effort and muscle that made this clean-up possible. It's great to see park users contributing and helping to make the New River Gorge a better place."
The specialized equipment for this project was purchased using court-ordered restitution payments from individuals caught spray painting graffiti on the rock cliffs by NPS rangers. The cleanup efforts were a trial run of the equipment and techniques to determine if graffiti could be removed without damaging the cliff face.
About forty feet of cliff face were blasted and the team plans to tackle another section in the weeks ahead. "This is a big project, but with the help of volunteer groups such as NRAC, we can get it done," said Hartley. "Park rangers will be increasing patrols and aggressively prosecuting anyone caught spray painting the rocks or any other features in the New River Gorge. It is difficult to understand why anyone would want to mar such a beautiful area."