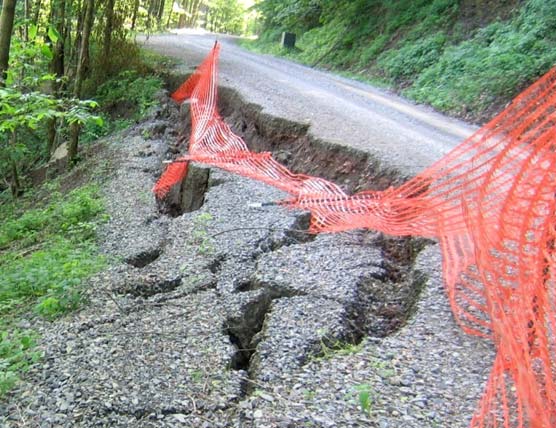 News Release Date:
May 18, 2007
Contact: Lorrie Sprague, 304 465-6521
Wet Weather Forces NPS to Close Glade Creek Road
"Last night's rain caused another section of the Glade Creek Road to slump, forcing us to close the entire road," announced Don Striker, Superintendent for New River Gorge National River. "Visitor safety is our highest priority, and conditions are too dangerous to permit the public to continue driving on this road."
Since 2003, the National Park Service (NPS) has been trying to repair other sections of the same road, and the NPS contractor, Orders Construction Company, will continue to work in the area. "As soon as the engineering work is done on this most recent slide, the contractor will focus on getting it repaired so we can re-open the first 1.5 miles of the road, which provides access to the Grandview Sandbar campground and river launch," explained Striker.
Located just off Highway 41 near Prince, WV, the Glade Creek road is popular with fishermen, campers and river users. Striker said that "the public may bicycle or hike on the road when the contractor is not working, which will be Saturdays, Sundays and holidays, unless otherwise posted. The Grandview Sandbar and Glade Creek Campgrounds may also be used, but campers must carry out all trash."