Date:
April 24, 2014
Contact:
Leah Perkowski-Sisk, 304-574-2115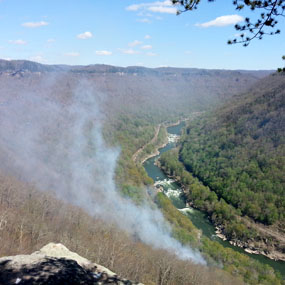 The Fern Creek Fire burning in the Endless Wall area of New River Gorge National River is 90% contained.Based on the weather forecast and continued suppression efforts today, full containment is expected tomorrow. There are a couple of spots that continue to burn and put up smoke but they are within the interior of the burn area and pose little to no threat of escaping the containment lines. Firefighters worked with CSX to identify and remove any hazardous trees that could potentially fall on the railroad tracks. Crews improved line construction, monitored hot spots, and continued the mop up process. NPS staff and the Cumberland Gap Wildland Fire Module will continue with the same type of work today-patrol, monitor and mop up.
The Endless Wall trail remains closed to public use while crews continue to assess and mitigate safety hazards.
Even though this fire is ramping down, spring fire season remains in effect until May 31st. Please be vigilant when you are out enjoying the park and report any smoke or fires to 911.