Date:
January 16, 2013
Contact:
Jodi French-Burr
, 304-465-2632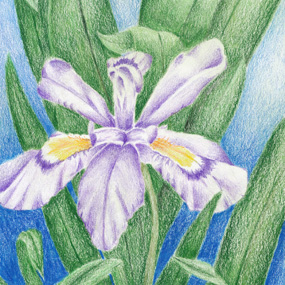 Glen Jean, West Virginia, January 16, 2013- Nature is often an inspiration for artist of all ages. Local students can celebrate such creativity through the Youth Arts in the Parks art contest, part of New River Gorge Wildflower Weekend (April 19 - 21). The art work of contest finalists will be showcased at Tamarack in Beckley and on-line in April, helping all in our community see the amazing natural diversity of Appalachian ecology. But the art entry deadline for Youth Arts in the Parks is almost here. So students, the time to finish up your contest entries is now.
 
This nature art contest is open to all K - 12 grade students in Fayette, Nicholas, Raleigh, and Summers Counties. Students may use a variety of mediums to create a work of art inspired by a spring Appalachian wildflower native to the New River Gorge area of West Virginia. Complete contest information, rules, list of accepted wildflower species, and entry form are available on-line at www.nps.gov/neri/youth-arts-in-the-parks.htm or www.tamarackwv.com/gallery/youthartsintheparks.aspx. Contest art entries must be received at your county's art receiving site between February 4 and 15, 2013; see contest guidelines for receiving site locations.
 
Join this celebration of Appalachian ecology through art with Youth Arts in the Parks!